Nominating Committee Seeks Applicants for USBF Board
USBF Nominating Committee Chair Robb Gordon has announced that the Nominating Committee is now taking applications from USBF Active members who want to be considered for nomination to the USBF Board.
There are 3 open seats on the 7 member USBF Board for the 3-year term commencing January 1, 2017.
The USBF Bylaws provide that a nominee must be an Active member of the USBF, having paid dues for 2016.
Gordon asks prospective nominees to This email address is being protected from spambots. You need JavaScript enabled to view it. before August 31 to express interest in being nominated.
Any Active USBF member who is not nominated by the Nominating Committee can become a nominee by followiong the petition method set forth in the USBF Bylaws.
Moss Wins First Ever Mixed USBC
The Moss team (Sylvia Moss-Michael Seamon, Sheri Winestock-Brad Moss, and Sue Picus-Alex Ornstein) prevailed over the Manfield team (Melanie Manfield-Bill Pettis, Debbie Rosenberg-Michael Rosenberg, Sally Woolsey-Kit Woolsey) in an exciting final match in the 2016 Mixed USBC, which selected the USBF team for the World Bridge Games in Wroclaw, Poland. Congratulations & Good Luck!
Scorecards with board by board bidding and play from the final match are linked to the scoresheet.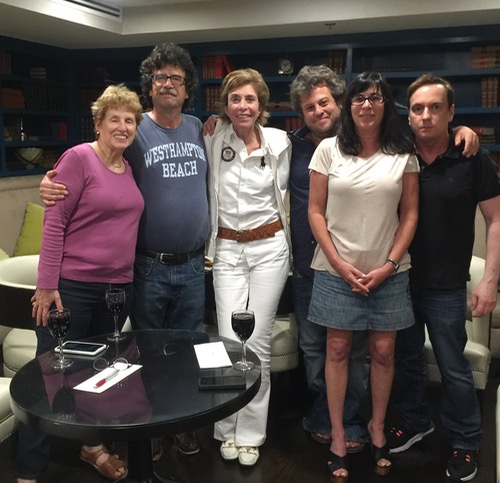 Sue Picus, Michael Seamon, Sylvia Moss, Brad Moss, Sheri Winestock, Alex Ornstein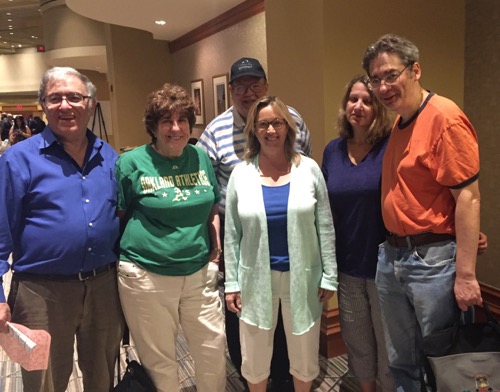 Kit Woolsey, Sally Woolsey, Bill Pettis, Melanie Manfield, Debbie Rosenberg, Michael Rosenberg
Kerri Sanborn Will Replace Juanita Chambers on USBF Wroclaw Women's Team
Sadly, Juanita Chambers passed away on Friday, July 29th. The bridge world will miss her.
At the request of the Women's team for the World Bridge Games in Poland, the USBF Board has approved Kerri Sanborn to replace Juanita on the team. Kerri will play with Lynn Deas, with whom Juanita played in the Women's USBC the team won to qualify for the World Bridge Games..
Kerri Sanborn Tobi Sokolow, Beth Palmer, Sylvia Shi, Lynn Deas, Janice Seamon, Juanita Chambers
Good luck in wroclaw!