USBC Entries Are Closed at 21 Teams
The closing date for guaranteed entries to the 2018 USBC was Monday, April 9th. At the end of the day on Monday, April 9th, 21 teams had entered. 3 of the teams have byes (Fleisher & Nickell to the Round of 8, Rosenthal to the Round of 16), so there are 18 teams in the Round Robin, who will compete for 11 spots in the Round of 16. The Conditions of Contest provide that with 18 Round Robin teams and 11 slots in the Round of 16, we have a 2-day complete Round Robin. With any more than 18 teams in the Round Robin, we would need a different format. Therefore no additional entries will be accepted. For more information, see the 2018 USBC page.
2018 Junior World Championship Teams Approved
The USBF Board of Directors has approved the following teams who will represent USBF at the 2018 World Junior Championships in China this August:
For the Patiño Cup (Players Under Age 26):
USA1
Zach Grossack-Oren Kriegel
Christian Jolly-Adam Kaplan
Ben Kristensen-Kevin Rosenberg
NPC Michael Rosenberg
USA2
Sam Amer-Yichen Yin
Arjun Dhir-Will Zhu
Greg Herman-Burke Snowden
NPC David Caprera
For the Damiani Cup (Players Under Age 21)
Cornelius Duffie-Stella Wan
Kevin Huang-Brent Xiao
Richard Jeng-Sarah Youngquist
NPC Sylvia Shi
For the Rona Cup (Women Under Age 26)
Sophia Chang-Lucy Zhang
Emma Kolesnik-Lingyi Ma
Amber Lin-Isha Thapa
NPC Kent Mignocchi
For the Koç University Cup (Players Under Age 16)
Harrison Luba-Michael Xu
Michael Hu-Arthur Zhou
Rory Xiao-Jonathan Yue
NPC Jim Munday
........
Dhir Wins Exciting USA2 Final
The Dhir team - Arjun Dhir-Will Zhu, Sam Amer-Greg Herman-Burke Snowden, defeated the Wei team - Hongji Wei-Chang Liu, Yewen Fan-Nian Si, Che Shen-Yichen Yin on the final board of the match, when the declarer in 7 diamonds had to decide whether to take a finesse or play for a squeeze and made the wrong decision. Review the bidding and play in the final segment here for lots of excitement.
2018 USA2 Patiño Cup team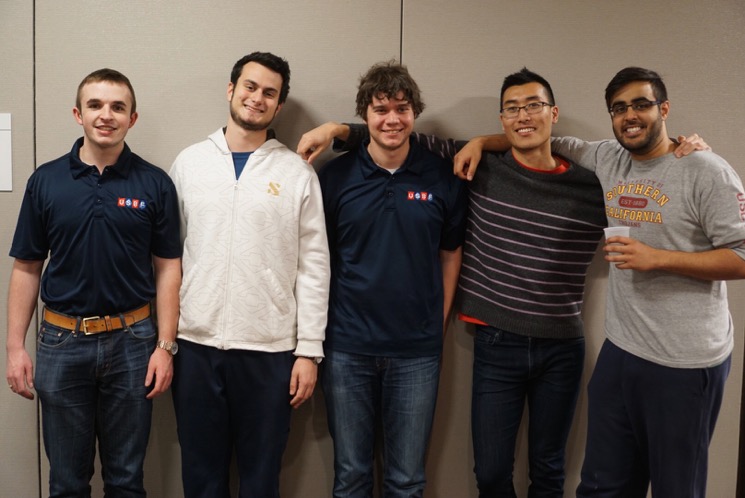 Burke Snowden, Sam Amer, Greg Herman, Will Zhu, Arjun Dhir, photo by Sylvia Shi