CONGRATULATIONS & GOOD LUCK!
The Hamman, NPC team came from behind in the sixth segment to defeat the Wolfson team 175-147 in the Senior USBC and earn the right to be the US team in the World Bridge Games in Wroclaw, Poland this year.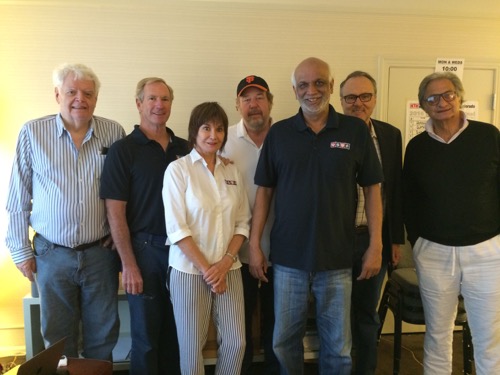 Bob Hamman, Reese Milner, Petra Hamman, NPC, Jeff Meckstroth, Hemant Lall, Mark Lair, Zia Mahmood
2016 Senior USBC News
The Bitterman team has withdrawn at the last minute from the 2016 Senior USBC. Chris Patrias, the Senior USBC DIC has ruled that the team should be treated as forfeiting their Round of 16 match against Koneru, NPC, so the Koneru team has earned a berth to join the two teams with byes (Hamman, NPC & Morse, NPC) in the Round of 8. There will now be 5 contested matches in the Round of 16, startimg at 10:00 am Denver time on Friday, June 17th.
Congratulations!
PALMER WINS WOMEN'S USBC
The Palmer team (Beth Palmer - Sylvia Shi, Lynn Deas - Juanita Chambers, and Janice Seamon-Molson, Tobi Sokolow) won the 2016 Women's USBC in convincing fashion, challenged only in the Quarterfinals, where they defeated Weingold by 6 IMPs over 60 boards. Their Semi-Final opponent, Wittes, withdrew after 105 boards, down 132 IMPs. In the Finals, against the top-seeded Baker team, they took the lead in the second segment and never looked back. The final margin was 34. By winning the Women's USBC, the Palmer team earned the right to represent the US in the 2016 World Bridge Games in Wroclaw, Poland in September. GOOD LUCK!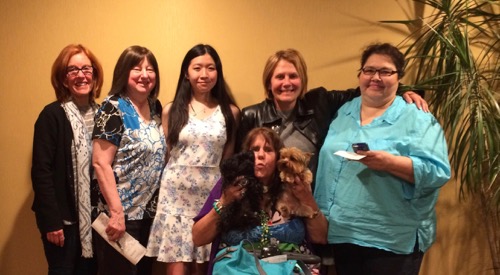 Tobi Sokolow, Beth Palmer, Sylvia Shi, Lynn Deas, Janice Seamon-Molson & Juanita Chambers