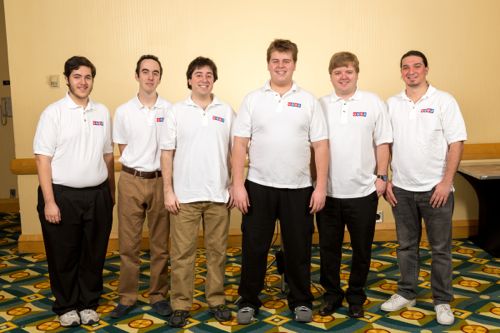 The Kaplan team won the Online qualifying stage of the U26 division of the 2013 Junior USBC to be the #1 seed in the Semifinal stage of the event. With Kevin Dwyer instead of Zach Brescoll, the team won the Junior Knockout Teams event at the 2013 World Youth Open Bridge Championship this summer.
System Information
Kaplan-Brescoll System Summary Form, ACBL Convention Card
Agica-Lien System Summary Form, ACBL Convention Card
Grossack-Grossack System Summary Form, ACBL Convention Card
About the Players
Adam Kaplan
I learned to play bridge while on a cruise at age 5, and am now 17 (I will be 18 in January 2014). I am from New Port Richey, Florida. I currently am playing full-time, but plan to go to college in the Fall of 2014.

I have multiple Youth NABC wins, and have won a Bronze Medal in the U26 BAM in Istanbul (2009), a Silver Medal in the U21 pairs in Croatia (2011), a Silver Medal in the U21 Swiss/KO in Shanghai (2012), and a Gold Medal in the U26 Swiss/KO in Atlanta (2013). I was formerly the youngest ACBL Life Master and have multiple top-ten finishes in national events.

In my free time, I write for BridgeWinners, play unhealthy amounts of Boggle, travel, and go fishing.
Zach Brescoll
Marius Agica
Owen Lien
Adam Grossack
I began playing when I was 8 years old. I have been playing competitively since the age of 11 and have accumulated many regional wins since then. I have 2 ACBL YOUTH NABC wins. I have a gold medal from the World Youth Individual Championship in 2010 when I was 18. I also have a silver from U21 pairs in Croatia in 2011, a silver from U21 Swiss/KO in Shanghai 2012, and a gold from U26 Swiss/KO in Atlanta at the World Youth Bridge Congress last summer. I was ACBL teen king of Bridge my senior year of high-school (2010).

My current youth bridge partner is my brother, the legend, Zach Grossack. In the past I have played with Adam Kaplan and Andrew Dubay in youth events. Adam K is my teammate this year for the event along with Owen Lien, Zach Brescoll and Marius Agica. This team plus or minus a player won the World Youth Bridge Congress in Atlanta last summer. My regular non-youth bridge partners include Alan Applebaum, Lew Gamerman and Anton Tsypkin.

Currently I am a full-time student at Brandeis University in Waltham MA. I'm in my senior year and majoring in business. I am actively involved in the promotion of the game of bridge and established a bridge club at my university. I also am a member of the New England Youth Bridge Committee. I teach part-time and play professionally part-time. Also, I intern in the wealth management division at UBS financial in Boston.
Zach Grossack
| | |
| --- | --- |
| | Born and raised in the Boston suburb of Newton, I was brought up in a bridge playing family; my mom, seeing an ad for bridge lessons, took up the game in 1999, and soon taught my brother. At first, I was turned off to the game, but by the time I was nine years old, bridge had really piqued my interest. And soon, with the help of my family and a few mentors, I started playing the game competitively; at the age of 12. Since then I finished second in the U21 Championships in Taicang, China, and won the U26 championships in Atlanta, Georgia. Outside of Bridge, I am a high school student, and a varsity football player, who also enjoys tennis, golf, cooking (and eating) and television. |