2023 USBCs
The 2023 USBCs will select teams for 2023 World Championships, scheduled for August 20-Sept. 2, 2023, at the Palais des Congres in Marrakech, Morocco. The WBF has provided this information about accomodations.
The Open USBC will select USA2 (USA1 is SPECTOR who won the 2022 Open USBC). The Mixed, Senior, and Women's USBCs will each select 2 teams.
Information with entries closed
The Open USBC had 15 teams entered when entries closed on March 21st. Entries will remain open until April 2nd or when a 16th team has entered, whichever is first. All Open play will be face to face, starting May 1 with the Round of 16 and ending May 8th. If there are 15 teams in the event, the top-seeded Nickell team will have a bye in the Round of 16.
The Mixed USBC had 10 teams entered when entries closed on March 22nd, and entries are now closed. All 10 of the teams preferred to have the entire event played face to face, and the format has been changed to allow that. The first Mixed stage will be a face to face 10-team Round Robin. The top 4 teams will qualify for the USA1 Semifinal; the 5th through 8th teams will qualify for USA2 Stage 1; the 9th and 10th teams will be eliminated. USA1 will continue with 2 day Semifinal and Final matches. USA2 will continue with 2 day Stage 1 matches, 1-1/2 day Quarterfinal and Semifinal matches, and a 2 day Final.
Overall Schedule: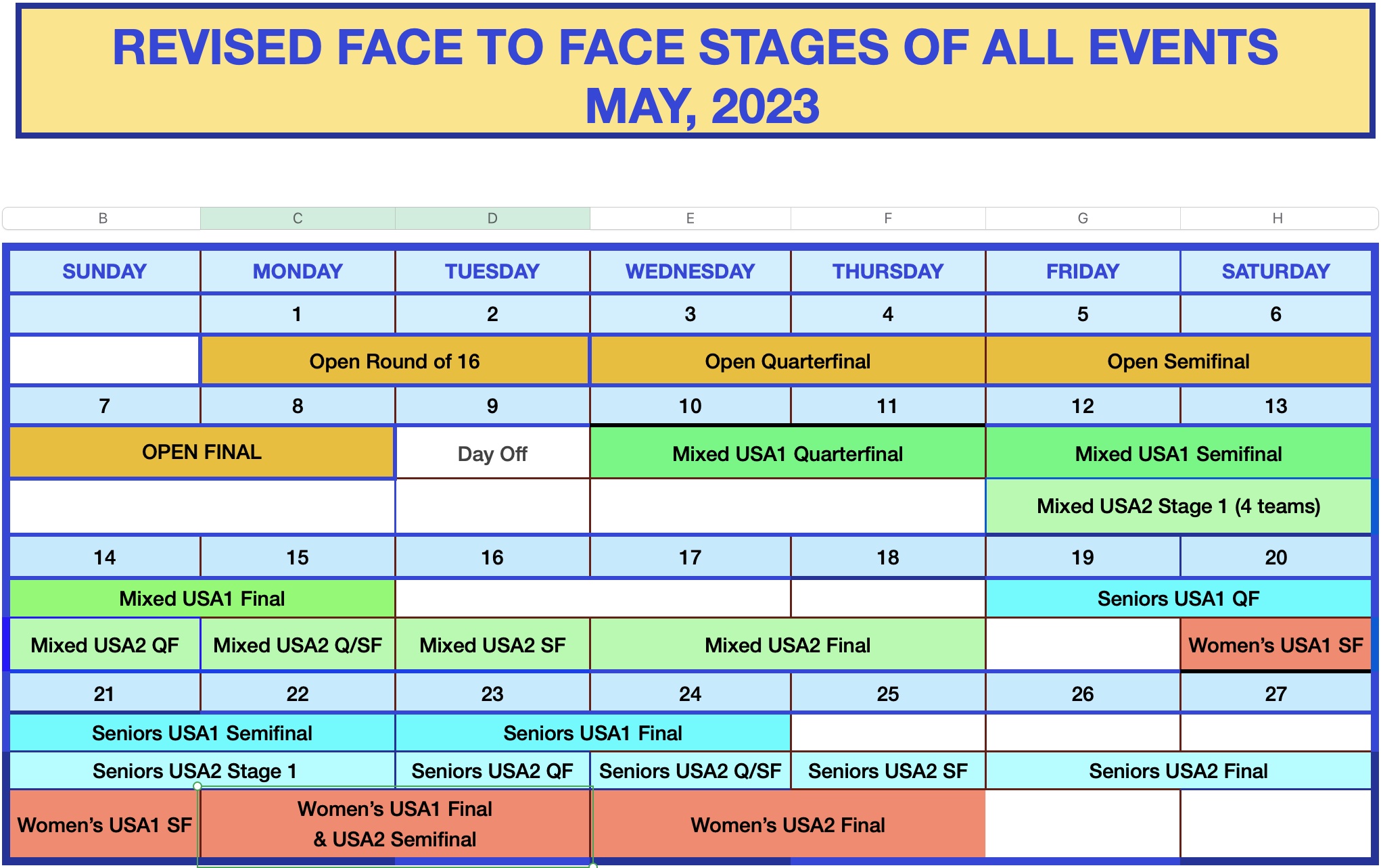 Entries are now open for all of the events except the Mixed. To enter, log in to this website and then click on the appropriate menu entry under the User Menu at the top left of each page. Entry closing dates, subject to extension if additional entries would improve the format of an event are:
Open - April 2nd, but only to allow one more team to enter in order to have 16 teams.
Mixed - CLOSED
Seniors & Women's - March 28
Entry fees are the same for all events: There is a $500 event entry fee plus session fees of $200 per session ($400 per day) for face to face play. The initial entry fee is due by the entry closing date. Session fees will be collected on site.
Hotel Information: The face-to-face stages of the 2023 USBCs will be held at the Schaumburg, IL Hyatt Regency. Room rate for the USBCs is $136 per night, including internet. You can make a reservation for any or all of the 2023 USBCs at our online reservation page, or by calling Hyatt at 877-803-7534 and mentioning USBF or maybe CHIRG-USB1. If you have any problems with hotel reservations, This email address is being protected from spambots. You need JavaScript enabled to view it. and she will try to straighten things out. The cut-off date to make reservations at our rate is April 16, 2023, but the online site will remain open after that and reservations will be accepted as long as the hotel has available rooms.
Formats - The Seniors and Women's will have an online stage to reduce to 8 (Seniors), or 4 (Women's) teams for face to face play. The online stages are tentatively scheduled for April 11-13, but may be changed to earlier dates with unanimous approval of the teams.
The face to face stages of play will be KO except for the Mixed or if the Women's has 3 teams, in which case the first 2 days will be a Round Robin.
system forms
Each pair is required to submit a System Summary Form two weeks before play begins. To create or edit a SSF, first log in to this site, then click on "Create or Edit SSF" under the User Menu, which appears in the left hand column when you log in. You can either create a new form or copy an old one. If you have any problems, This email address is being protected from spambots. You need JavaScript enabled to view it. and he will try to help.
Each pair is also required to submit an ACBL convention card two weeks before play begins We haven't yet been able to set up a way for you to upload your ACBL convention card or link to a BridgeWinners card online, so please either share your BridgeWinners card with Al or email a PDF or JPG version of your convention card to him, and he will upload and link. If you sent Al a convention card or link last year and it's the same for this year, please This email address is being protected from spambots. You need JavaScript enabled to view it. and let him know to copy that card or link to this year. Thanks.
Due dates for SSFs and convention card will depend on whether there is an online stage or not. If there is an online stage, system forms are due 2 weeks before the first day of online play. If there isn't an online stage, system forms are due:
Open: April 17
Mixed: April 26
Senior: May 5
Women: May 6
If you are playing a method that is allowed under paragraph 3 or paragraph 7 of Opening Bids on the new Open+ Convention Chart, and there is not now an ACBL approved defense to the method, you must submit a full description of the method and a recommended defense at least 4 weeks before the start of play. Our software no longer allows you to create an Advance Submisstion Form online, but you can download the form as a Word document and use it as an outline of the information you should submit. Complete it, This email address is being protected from spambots. You need JavaScript enabled to view it. and he will convince the website to see it as an ASF and link it to your SSF. He will also send it to the USBF Conventions Committee for review. If the committee has not rejected it within 1 week of submission, it is accepted and you may play the method and must bring the recommended defense to the table with you.

Open USBC Byes
After the Vanderbilt, the Nickell team (Nickell-Katz, Greco-Hampson, Levin-Weinstein) has 74 Positioning Points, and the Lebowitz team (Lebowitz-A. Grossack, Z Grossack-M Rosenberg) has 48 Positioning Points. 48 PPs are required for the first 3 byes to the Round of 16. The Vanderbilt winner (Wolfson-Garner, Grue-Moss, Zia-Gold) has 75 Positioning Points and would have a bye to the Round of 16 if 4 of them were playing on the same team, but they aren't. No other team has enough Positioning Points for a bye.
Conditions of Contest
All 4 events will be governed by the USBF General Conditions of Contest.
In addition, each of the events has Special Conditions of contest: Open, Mixed, Senior, Women's
Note that these links are to the latest 2023 Draft versions, which we expect will become Final on approval by the USBF Board.