Rosenthal is USA2 for the 2019 World Mixed Teams
Congratulations to Andrew Rosenthal, Debbie Rosenberg, Michael Rosenberg, Chris Willenken, and Migry Zur Campanile, who defeated DONNER (Gary Donner-Yoko Sobel, Giorgia Botta-Zach Grossack, Sheila Gabay-Adam Grossack) in an exciitng USA2 Final. According to USBF rules, the Rosenthal team will be required to add a third woman for the World Championship.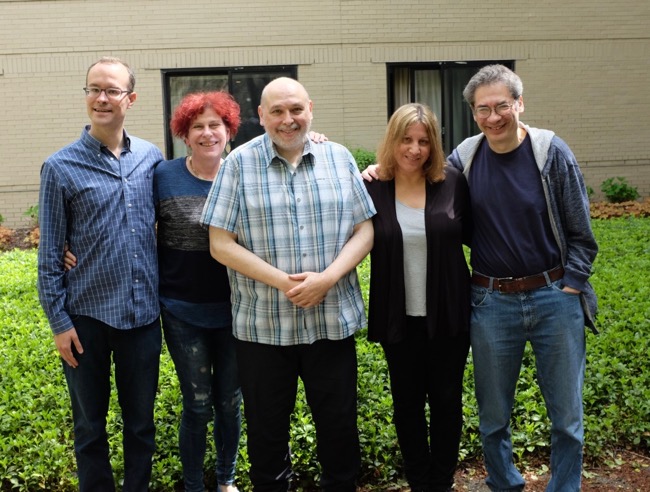 Chris Willenken, Migry Zur Campanile, Andrew Rosenthal, Debbie Rosenberg, Michael Rosenberg, photo by Stan Subeck
Details
Mixed USBC USA2 Semifinal Scores
"Real" Score in Pepsi vs Rosenthal
As a result of a very complicated director ruling that I hope will be explained in the Daily Bulletin, the Rosenthal team was awarded an additional 2-1/6 IMPs in the first segment of play today, giving them a first segment score of 20-1/6. Neither our scoring software nor the BBO Vugraph software allows me to enter a score that is not a whole number. Therefore I have listed the score on the USBF scoreboard and will include it in the total shown on BBO Vugraph as 21.
I recognize that 20-1/6 is closer to 20 than to 21, but I think it is correct that the effect of a partial iMP is the same as the effect of a full IMP in determining the outcome of the match, so listing it as 21 provides the best picture of the state of the match.
The 9 IMP penaltiy assessed against the Donner team was because one of the Donner players had a cell phone at the table.
Jan Martel
Details
Ivatury Team is USA1 for the 2019 World Mixed Teams
Congratulations to Uday Ivatury-Christal Henner, Cheri Bjerkan-Howard Weinstein, Jill Meyers-Steve Garner, who defeated KOLESNIK (Kolesnik-Kislitsyna, Brenner-Caprera, Mandala-Woolsey) to become USA1 for Wuhan in September.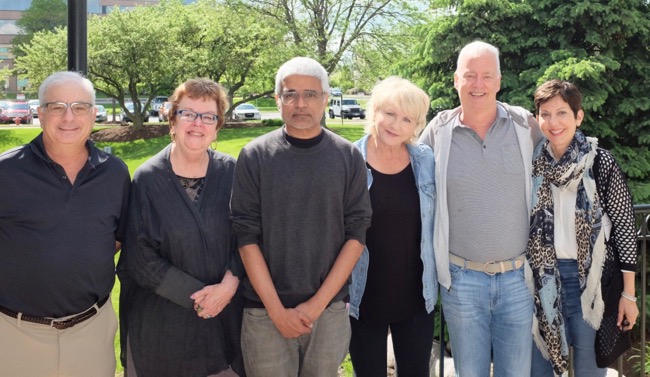 Howard Weinstein, Cheri Bjerkan, Uday Ivatury, Christal Henner, Steve Garner, Jill Meyers, photo by Stan Subeck
No one could get Uday to smile!
Details
Disa Team is USA2 for the 2019 Venice Cup
Congratulations to Disa Eythosdottir-Linda Lewis, Cindy Bernstein-Sally Wheeler, Lynn Deas-Janice Molson who defeated BJERKAN (Cheri Bjerkan-Rozanne Pollack, Peggy Sutherlin-Pam Wittes) in a back and forth match in the USA2 Finals.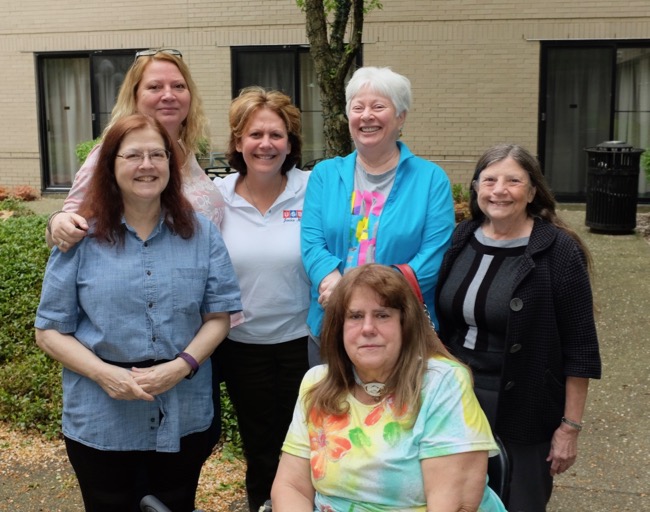 Sally Wheeler, Disa Eythorsdottir, Janice Molson, Linda Lewis, Lynn Deas, Cindy Bernstein, photo by Stan Subeck
Details