CROATIA UPDATE
SATURDAY
Congratulations to team USA (Kevin Dwyer - Owen Lien, Jeremy Fournier - Mitch Towner, Roger Lee - Dan Wolkowitz on winning the silver medal in the BAM teams in Croatia! Well done!
All of the US players in Croatia reached the finals of the Board-a-Match competition. The USA and USA-U21 teams, both of whom failed to qualify for the Knockout Finals earlier this week (USA by the narrowest of margins - they were tied for the last qualifying spot and lost the tie-break), moved on to the Board-a-Match qualifying and semi-final, in which they ranked 6th and 7th after 3 days of competition. The top 8 teams qualified for the BAM final, where they will be joined by the 4 semi-finalists from the KO. Marius Agica, whose team (Ned-Rum) lost in the KO semi-final and then defeated the other losing semi-finalist to win the KO bronze medal, will also be playing in the BAM final tomorrow. Good luck to all of our USBF Juniors in Croatia!
Details
JUNIORS IN CROATIA
Two USBF Junior teams and one USBF member on a transnational team are competing in the 2nd World Youth Congress in Croatia this week. Monday, Aug. 22nd & Tuesday, Aug. 23rd are the qualifying rounds for the IMP team event. The top 8 teams (there are 27 teams entered) will advance to Quarterfinals on Wednesday, Semifinals on Thursday and Finals on Friday. Meanwhile, the teams who didn't qualify for the Quarterfinals will compete in a Board a Match team event Wednesday through Saturday. Sunday through Tuesday, all of the players will compete in a Pair event.
Our teams are:
USA
Kevin Dwyer - Owen Lien
Roger Lee - Daniel Wolkowitz
Jeremy Fournier - Mitch Towner
NPC: Will Ehlers
USA U21
Zack Brescoll - Anam Tebha
Adam Grossack - Adam Kaplan
Stephen Drodge - Dan Emmons
NPCs: Tom & Jenni Carmichael
USBF member Marius Agica is playing with players from the Netherlands and Romania on the Ned Rum team.
To see the current results, click here and then click on the segment you want to see. For the main page with links to information about the players, the schedule and Daily Bulletins, click here. For the BBO Vugraph schedule, click here.
Details
Goodbye to a Dear Friend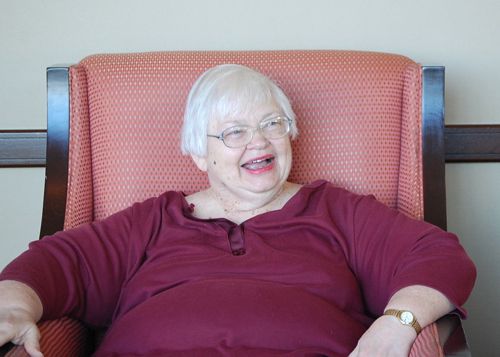 Nadine Wood, photo by Peg Kaplan
We were all saddened today to hear of the death of Nadine Wood. Nadine has been a USBF member and supporter since our formation. She was a member of the Women's International Team Trials Committee when it was first formed by ACBL and continued to be an active and valued member of the Committee, now a USBF committee, through the Toronto meeting. She was always there to help, whether that meant finding space for the Women's and Senior Team Trials at MABC Regionals, serving as a wonderful hostess at those same Trials, working tirelessly at seeding for NABC events, and on and on. She will be sorely missed!
At the Detroit Women's and Senior Team Trials this year, USBF held a party to honor and thank Nadine for all of her hard work over the years. We did not know this would be the last time we would see Nadine at the Trials, but wanted to take the opportunity of having the two Trials together to thank Nadine. Unfortunately, we haven't been able to get very many pictures from that evening, but here are a few, thanks to Sandy Arlinghaus & Suzi Subeck: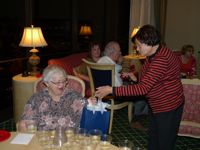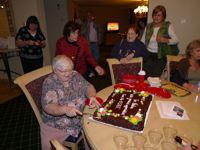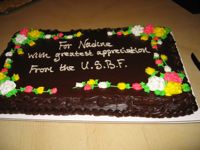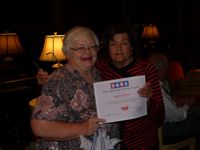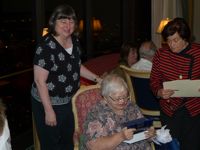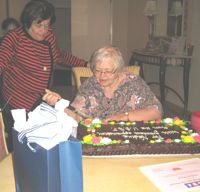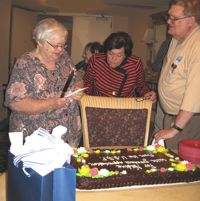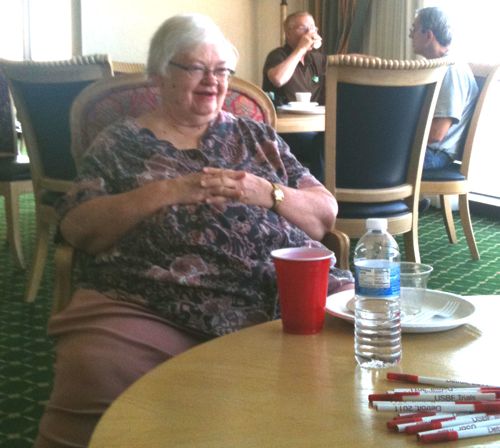 Details