Congratulations to USA1 for winning the Silver Medal in the Damiani Cup (Under 21) in the 2014 World Youth Teams Championship. Ben Christensen, Nolan Chang, Chris Huber, Oren Kriegel, Kevin Rosenberg & Cole Spencer finished the qualifying Round Robin in fifth place. They defeated China by 13 IMPs in the Quarterfinals (having started 11 IMPs behind as a result of their loss to China in the Round Robin). They defeated France by 20.5 IMPs, having started 4.5 IMPs ahead as a result of defeating France in the Round Robin.
In the final, USA2 played Sweden, who had won the Round Robin, defeatied the Netherlands by 41 in the Quarterfinal and Norway by 75 in the Semifinal. At the half in the Final, USA1 led by 15 IMPs on the strength of a very strong third segment. Sweden came on strong in the 4th and 5th sets, to lead by 52.5 after 5 of 6 segments. The teams played even in the final segment, so Sweden won the match and the gold medal.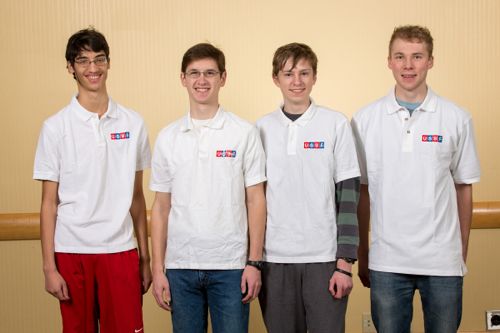 Kevin Rosenberg, Oren Kriegel, Ben Kristensen & Chris Huber, who won the USA1 spot at the 2014 Junior USBC.
Nolan Chang & Cole Spencer were added to the team for the WYTC.
US teams finished 5-8 in the Ortiz-Patiño Cup (Under 26) and the Rona Cup (Women Under 26), and ended the Round Robin in 10th (U21) and 12th (U26) places after the Round Robin.
In the Board-A-Match teams, five of the USA1 Under 26 team won Gold. Congratulations to Zach Brescoll, Adam & Zach Grossack, Adam Kaplan, Owen Lien and new teammate from Sweden Adam Stokka.