The Junior United States Bridge Championships (JUSBC), which selected the USBF teams for the 2014 World Junior Championships, to be held in August, 2014 in Istanbul Turkey, took place Dec 31-Jan 2 at the Hyatt Regency in Atlanta.
In the under-26 category, Kaplan (Adam Kaplan – Zach Brescoll, Adam Grossack - Zach Grossack, Marius Agica – Owen Lien) won a close, hard-fought match against Wang (Zhou "Jimmy" Wang – Erli Zhou, Edmund Wu – William Zhu) to become USA1 for the Patino Cup.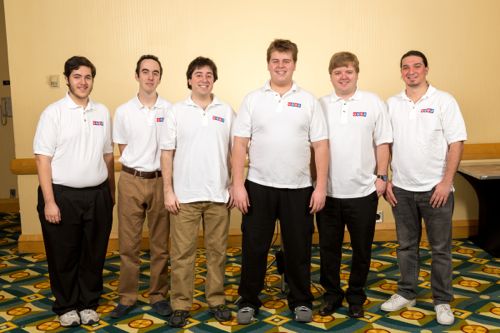 Adam Kaplan, Zach Brescoll, Adam Grossack, Zach Grossack, Owen Lien, Marius Agica
In the playoff for USA2 U26, Wang overcame a first-quarter deficit to defeat Herman (Greg Herman – Anam Tebha, Alex Hudson – Drew Cavalier).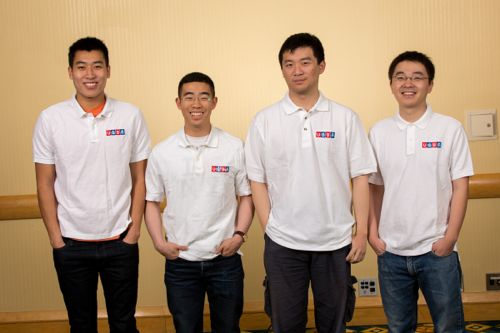 William Zhu, Edmund Wu, Erli Zhou, Jimmy Wang
In the U21 division, the Kriegel team (Oren Kriegel – Chris Huber, Ben Kristensen – Kevin Rosenberg) is USA1 for the Damiani Cup. Kriegel beat Harper (Brandon Harper – Ryan Miller, Hakan Berk – David Soukup) in the finals.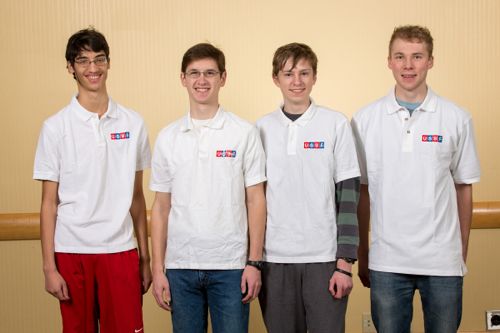 Kevin Rosenberg, Oren Kriegel, Ben Kristensen, Chris Huber
Dhir (Arjun Dhir – Christian Jolly, Allison Hunt – Burke Snowden) triumphed over Harper in the playoff to become USA2.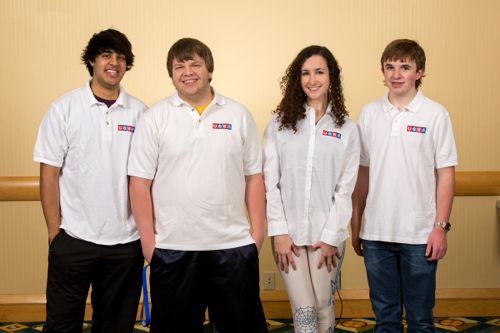 Arjun Dhir, Christian Jolly, Allison Hunt, Burke Snowden
Thapa (Isha Thapa – Julie Arbit, Marianna Linz – Rebecca Wernis) defeated Goyal (Rachna Goyal – Alice Kaye, Asya Ladyzhensky – Ruth Ng – Mili Raina) to earn the right to represent the USA in the Rona Cup (Women under 26) competition in Turkey.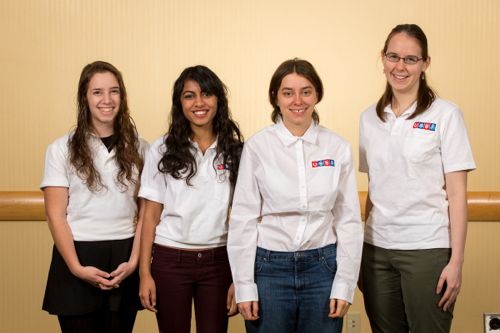 Julie Arbit, Isha Thapa, Becca Wernis, Marianna Linz
The JUSBC was preceded by three days of training organized by Michael Rosenberg, Debbie Rosenberg, and Barry Goren. Other mentors at the training included Kevin Collins, Marty Fleisher, Chip and Jan Martel, Karen McCalllum, Joe Stokes, Patty Tucker, and Howie Weinstein. Many thanks to these players for donating their time and expertise. Thanks also to the ACBL and to our many donors who provided sponsorship for both the training and the JUSBC.