USA1 Teams for 2018 World Junior Championships
Congratulations to the winners in all 4 divisions of the Michael Seamon Junior USBC:
Under 26, who will be USA1 for the Patiño Cup: Adam Kaplan-Christian Jolly,
Zach Grossack-Oren Kriegel, Ben Kristensen-Kevin Rosenberg: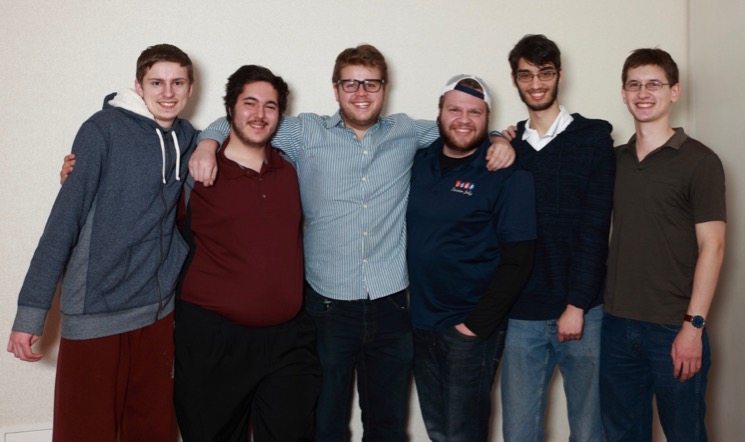 Ben Kristensen, Adam Kaplan, Zack Grossack, Christian Jolly, Kevin Rosenberg, Oren Kriegel, photo by Bo Xiao
Under 21, who will be USA1 for the Damiani Cup: Brent Xiao-Kevin Huang,
Cornelius Duffie-Richard Jeng-SarahYougquist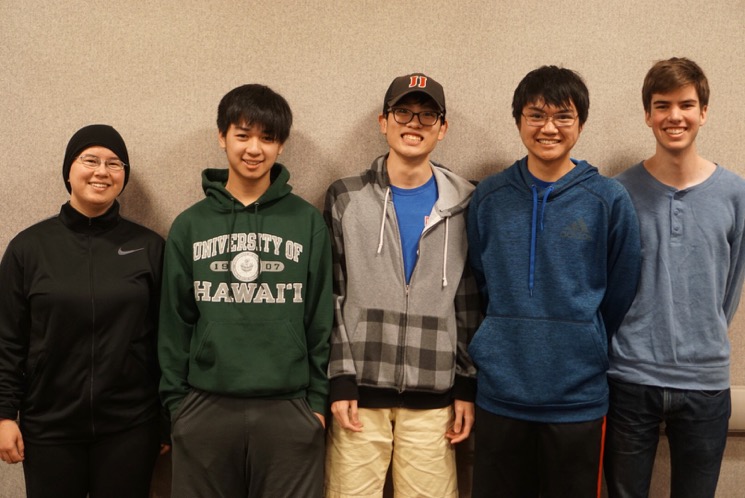 Sarah Youngquist, Kevin Huang, Richard Jeng, Brent Xiao, Cornelius Duffie, photo by Sylvia Shi
Under 16, who will be USA for the Koç University Cup:
Rory Xiao-Jonathan Yue-Harrison Luba, Michael Hu-Arthur Zhou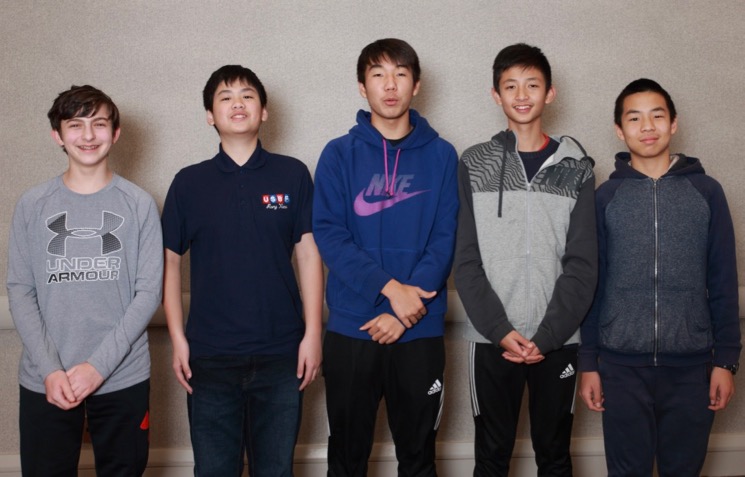 Harrison Luba, Rory Xiao, Michael Hu, Arthur Zhou, Jonathan Yue, photo by Bo Xiao
Young Women under 26, who will be USA for the Rona Cup: Isha Thapa-Amber Lin,
Sophia Chang-Lucy Zhang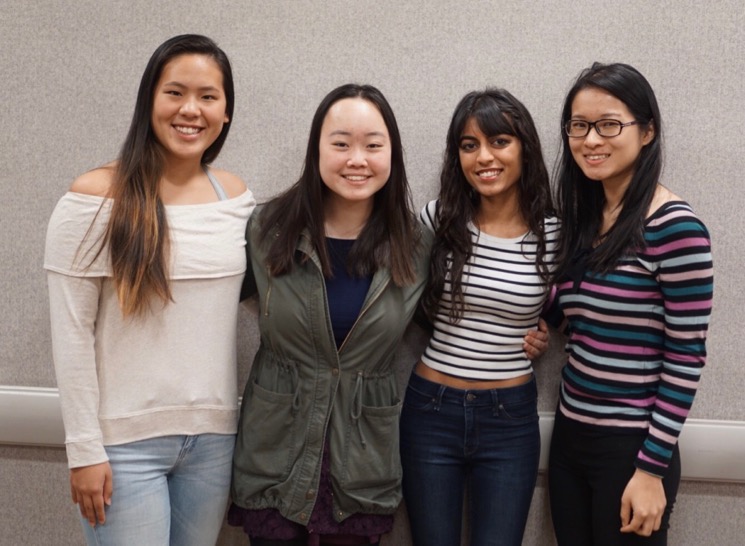 Sophia Chang, Lucy Zhang, Isha Thapa, Amber Lin, photo by Sylvia Shi
Details
2017 MICHAEL SEAMON JUNIOR USBC UNDERWAY
Teams in the Under 26 and Under 21 divisions of the 2017 Michael Seamon Junior USBC started play today in Atlanta. Thanks to Bo Xiao, here's what the playing room looked like this morning: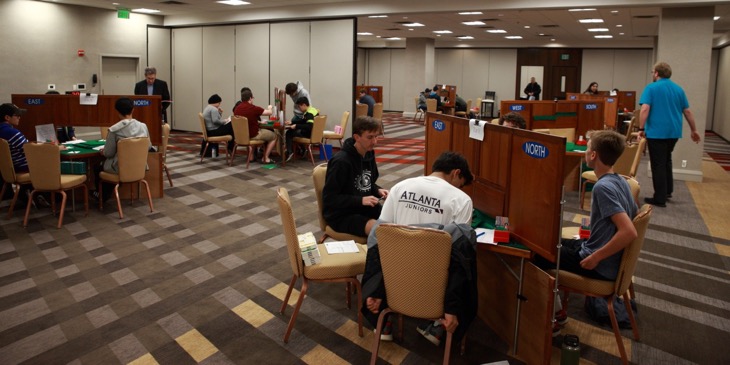 Details
2017 IMSA Elite Mind Games
Play started in the 2017 IMSA Elite Mind Games in Huai'an, China, on Dec. 9th. The event concludes on Dec. 15th. Those dates are in China, which is a day later than in the US. USBF is represented by Open and Women's Teams.
In the team event, the USA Women's team finished third.
Women's Team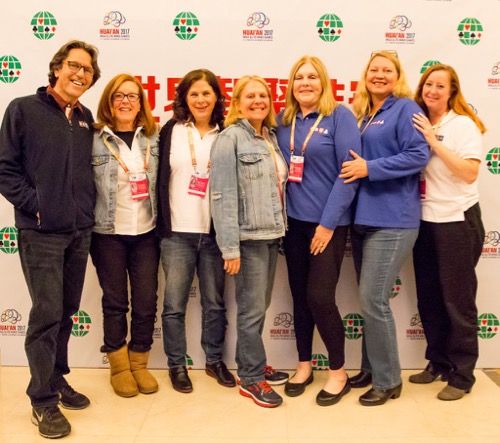 NPC David Sokolow, Tobi Sokolow, Joanne Weingold, Janice Seamon, Kerri Sanborn, DIsa Eythorsdottir, Shannon Cappelletti,
Photo by Francesca Canali
Open Team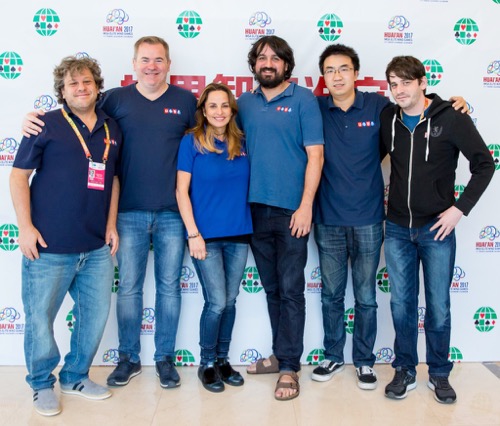 Brad Moss, Jacek "Pepsi" Pszczola, May Sakr, Justin Lall, Shan Huang, & Kevin Dwyer
Photo by Francesca Canali.
The tournament website has links to information about the event, including results and Daily Bulletins. The IMSA Elite Mind Games will be shown on BBO Vugraph each day. If I've figured out the time difference correctly, BBO coverage starts at 5:30 Pacific time, 8:30 East Coast time.
Details
Daily Bulletin
Our wonderful Daily Bulletin editor, Suzi Subeck, will be producing a Daily Bulletin each day. The full pre-bulletin will be available in hard copy at the tournament. Subsequent bulletins will also be available in hard copy or you can read the bulletins online. The bulletins are listed here; click on the one you want to download it in PDF format.
Although it looks as if there are links for future bulletins, they will only work after Suzi has uploaded each bulletin to the website, probably sometime in the middle of the night before the Bulletin's date. If you click on a link and are taken to a page saying Error - page not found, that means the bulletin isn't yet available; try again later.
Final Bulletin, Monday, January 1st
Event Photos, if someone takes some, on our Facebook page
Details