APPEAL CHANGES SCORE IN DIAMOND-JACOBS MATCH
An Appeals Committee ruling late Tuesday night changed the score in the Diamond-Jacobs match. The appeal will be written up in the Daily Bulletin, but essentially, a bid that was made after a hesitation was not allowed, changing the result on a board from 6

making 6 to 3NT down 1. The correct score is posted on the results bracket.
ITTC Honors Mike Becker
At its meeting in Memphis, the ITTC honored outgoing chair Michael Becker and thanked him for 16 years of outstanding service to the committee and the bridge community in genera. At the end of the meeting, committee members applauded, gave Mike a "16 balloon salute" and a plaque with a golden gavel, as well as sharing this cake.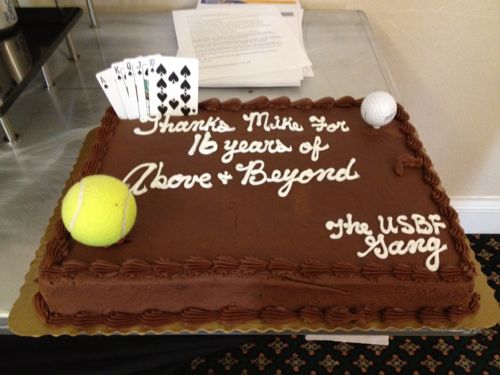 The ITTC also welcomed new Chair Jonathan Weinstein and expressed appreciation for his willingness to take over the daunting task and the best of luck in his efforts with the committee.
Burke Snowden in the News
Burke Snowden, who will be going to China on the USA2 team for the Damiani Cup this summer, was recently featured in two articles, one in the Denver Westward News and one on ACBL's Youth 4 Bridge website. Way to go, Burke and as always the best of luck to our USBF teams in the Junior Championships.