Kerri Sanborn Will Replace Juanita Chambers on USBF Wroclaw Women's Team
Sadly, Juanita Chambers passed away on Friday, July 29th. The bridge world will miss her.
At the request of the Women's team for the World Bridge Games in Poland, the USBF Board has approved Kerri Sanborn to replace Juanita on the team. Kerri will play with Lynn Deas, with whom Juanita played in the Women's USBC the team won to qualify for the World Bridge Games..
Kerri Sanborn Tobi Sokolow, Beth Palmer, Sylvia Shi, Lynn Deas, Janice Seamon, Juanita Chambers
Good luck in wroclaw!
Details
Mixed USBC Entries & Format
The final day to enter the Mixed USBC and guarantee that your entry would be accepted was Monday, June 27th. At midnight EDT on June 27th, there were 8 teams entered in the Mixed USBC.
Entries are now closed.
Format of Mixed USBC
With exactly 8 entries, the entire Mixed USBC will be played face to face in Washington, DC.
There will be a 60 board Quarterfinal on Monday, Aug. 1st, a 60 board Semifinal on Tuesday, Aug. 2nd and a 60 board Final on Wednesday, Aug. 3rd.
Seeding
Teams will be seeded based on the Open seeding points of the male members of the team and the greater of twice the Open seeding points or the Women's seeding points of the female members of the team.
Playing Site
We will be playing the Mixed USBC at the Marriott Wardman Park Hotel, headquarters for the Summer NABC. ACBL has arranged for us to have guest rooms at the NABC rate, but the details of how you should book those rooms have not yet been worked out. As soon as we know what you should do about making reservations, we will let you know.
Details
CONGRATULATIONS & GOOD LUCK!
The Hamman, NPC team came from behind in the sixth segment to defeat the Wolfson team 175-147 in the Senior USBC and earn the right to be the US team in the World Bridge Games in Wroclaw, Poland this year.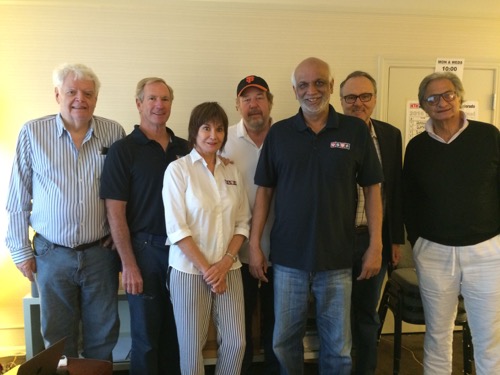 Bob Hamman, Reese Milner, Petra Hamman, NPC, Jeff Meckstroth, Hemant Lall, Mark Lair, Zia Mahmood
Details
2016 Senior USBC News
The Bitterman team has withdrawn at the last minute from the 2016 Senior USBC. Chris Patrias, the Senior USBC DIC has ruled that the team should be treated as forfeiting their Round of 16 match against Koneru, NPC, so the Koneru team has earned a berth to join the two teams with byes (Hamman, NPC & Morse, NPC) in the Round of 8. There will now be 5 contested matches in the Round of 16, startimg at 10:00 am Denver time on Friday, June 17th.
Details