Congratulations to the USBF Women's & Senior teams who won gold medals in the 2016 World Bridge Games in Wroclaw, Poland.
The Women's team: Lynn Deas, Beth Palmer, Kerri Sanborn, Janice Seamon-Molson, Sylvia Shi, and Tobi Sokolow, with David Sokolow as NPC, finished the Round Robin in second place in their group, and went on to win all of their KO matches by substantial margins (91 IMPs in the Round of 16, 35 in the Quarterfinals, 29 in the Semifinals and an impressive 74 over France in the Finals). The team dedicated their win to Juanita Chambers, who was on the team for the Women's USBC, but died before this event took place.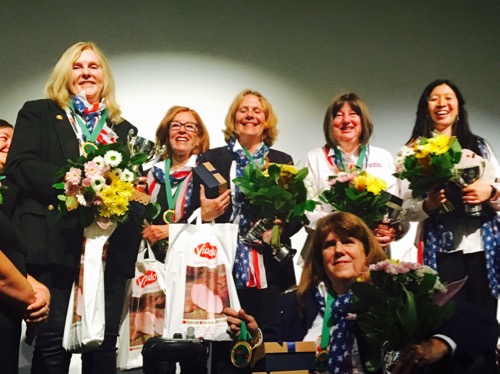 Receiving their medals: Kerri Sanborn, Tobi Sokolow, Janice Seamon-Molson, Lynn Deas, Beth Palmer, Sylvia Shi
The Senior team: Bob Hamman, Hemant Lall, Zia Mahmood, Chip Martel, Jeff Meckstroth, and Reese Milner, with Petra Hamman as NPC and Jacek ("Pepsi") Pszczola as coach, finished the Round Robin in first place, won their Round of 16 match by 172, their Quarterfinal match by 30, their Semifinal match by 92 and their Final match (also against France) by 38.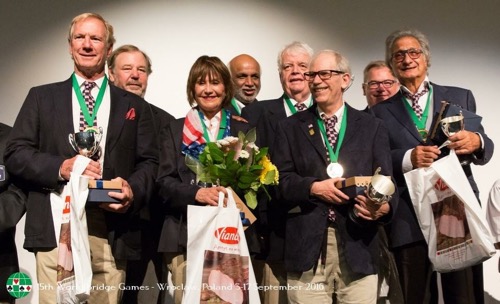 Receiving their medals: Reese Milner, Jeff Meckstroth, Petra Hamman, Hemant Lall, Bob Hamman, Chip Martel, Pepsi Pszczcola, Zia Mahmood
The USBF Mixed team (Brad Moss, Sylvia Moss, Alex Ornstein, Sue Picus, Michael Seamon, and Sheri Winestock, with Philip Alder as NPC, finished in fourth place.
The USBF Open team (Kevin Bathurst, John Diamond, Eric Greco, Geoff Hampson, Justin Lall, and Brian Platnick, with NPC Oren Kriegel) lost a contentious match to Spain in the Round of sixteen.
Congratulations to all of our teams in Wroclaw!
If you're wondering about the shopping bags in the player's hands, those contain a gift of Polish sausage :-)