Another World Championship for Nickell Team!
Congratulations to the Nickell team on winning the 2022 Rosenblum Teams in Wroclaw, Poland. Nickell (for anyone who doesn't know them: Nick Nickell-Ralph Katz, Eric Greco-Geoff Hampson, and Bobby Levin-Steve Weinstein, NPC Jill Levin) won a hard-fought final over Ventin (Ventin-Wrang-Palma-Pacareu, Mendes de Leon-Sprinkhuizen) 186-164 with a blazing 51-19 final segment, after defeating Team Black (Black-Bertheau, Hallberg-Hult, McIntosh-Paske) 118-115 in the Semifinals.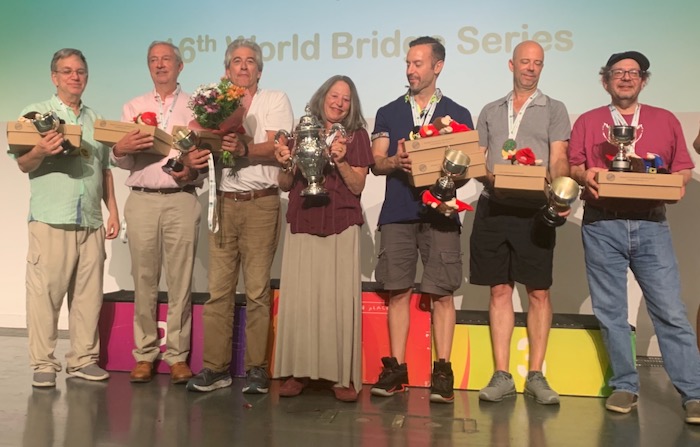 Ralph Katz, Nick Nickell, Bobby Levin, Jill Levin, Eric Greco, Geoff Hampson, Steve Weinstein.
Photo by Stan Subeck.
Congratulations also to the mostly USBF Robinson team (Robinson-Korbel, Berkowitz-Meckstroth, Gold-Zia) who lost to Ventin in the Semifinals to finish tied for third and a bronze medal.
McConnell Medals for USBF players:
In the McConnell Cup (women's teams), with a small but very strong field, Baker (Baker-McCallum, Brock-Brown, Meyers-Sanborn) tied for third, and five other USBF members won medals: Joan Brody & Sandra Rimstedt, Gold; Disa Eythorsdottir & Janice Molson, Silver; Jodi Edmonds & Irina Levitina, Bronze.
USBF Gold & Bronze in the Women's Pairs
Jill Meyers and Kerri Sanborn took home the second USBF Gold Medal from Wroclaw in the Women's Pairs, adding to both players' amazing collection of gold medals - if I counted correctly, this was Jill's eighth and Kerri's eleventh World gold medal.
Disa Eythorsdottir and Janice Molson won Bronze.
Rand Silver Medal & Senior Pairs Bronze:
In the Rand Senior Bowl, the all-USBF Goodman team (Goodman-Lair-Passell, Berkowitz-Meckstroth) lost a close final to the mostly Polish Vytas team, to win Silver, after defeating the Zimmermann team in the Semifinals.
David Berkowitz and Jeff Meckstroth won Bronze in the Senior Pairs.
USBF Medals in Mixed teams & Pairs:
In the Mixed Teams, Barbara Ferm won Gold, Joe Grue and Gillian Miniter won Silver, and Kevin Dwyer and Sandra Rimstedt won Bronze.
Chris Willenken won Bronze in the Mixed Pairs.