PAUL SOLOWAY - 1941-2007 - WE WILL MISS YOU
"It is important to remember his deeds, for in the future, those who were not privileged to know him will doubt such a man ever existed." Reportedly said by Einstein about Gandhi.

We have set up a message board where our members can post their recollections of Paul . It can be read by non-members as well, but they cannot post messages. Here's an article you might enjoy reading .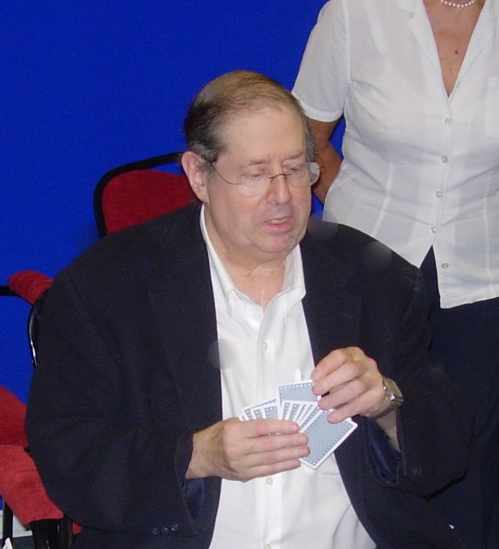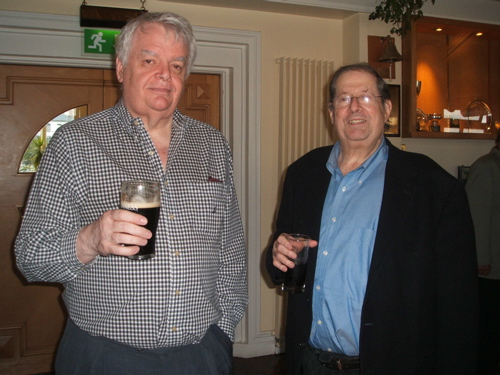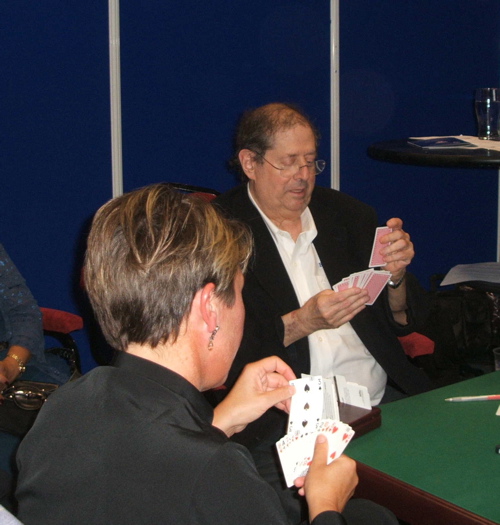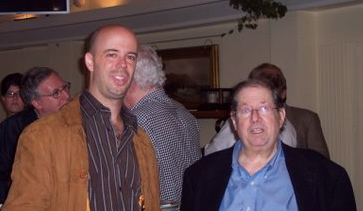 Dan Gerstman's Slam from the Semi-Finals
With two boards to play in the Kasle vs. Assemi semi-final match on July 4th, Kasle led by 17 IMPs. Over 20 IMPs changed hands on those last two boards, but all of them went to the Kasle team, and on both boards, Dan Gerstman was the star for Kasle. Here's board 29, on which the Vugraph commentators at first predicted that Assemi would win 13 IMPs for staying out of a "hopeless" slam, but Dan proved them wrong by making it.
Declarer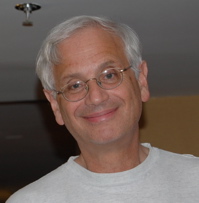 The Hand
(hands rotated because South is always declarer)
Board 29
Vul: Both
Dealer:E

 T6
     

 K82
     

 AT7
     

 KQJ92

 KJ7532 
    

 J3
    

 KQ95
    

 A    

N

W E

S

 
    

 84  
    

 T94
    

 J6432  
    

 T73
 

 AQ9
     

 AQ765   
     

 8
     

8654    
The Bidding
E


S
Gerstman
W


N
Sutherlin
Pass
1
1
2
Pass
3
3
3
4
4
Pass
5
Pass
5
Pass
6
Pass
6
Pass
Pass
Pass
The Play
West might have been warned by the bidding that he needed to cash the

A to avoid being end-played, but he chose the

K as the opening lead. Danny Gerstman then played double-dummy to bring home the slam: he ruffed a

at trick 2, crossed to dummy with a trump and ruffed dummy's last

. He cashed a top

to extract West's last trump and exited with a small

. West was left with a choice of ways to surrender the 12th trick. The end position was:
T6
8
---
KQJ9
KJ7532
----
Q
----
84
T
J3
T3
AQ9
Q
---
865
On a

return, Dan would ruff in dummy, discarding a

from hand, cross to the

A, pull the last trump and take the last 4 tricks with dummy's

s. On the actual

return, he won the Q, pulled the last trump and claimed. This resulted in a well-earned 13-IMP pick-up.
Write-up by Jim "Flash" Gordon
A Great Hand Courtesy of Larry Cohen
Larry Cohen sent us this link to an article he wrote about a "great hand" played by Lapt Chan in the Round of 16 of the 2007 USBC. Here are pictures of Lapt and Larry at the USBC, and the hand - can you guess how Lapt made 4

after a trump lead? Click on the link to Larry's site to find out. This diagram of the hand shows Lapt in his "real" seat (North). The hand on Larry's site is rotated to make Lapt South, since all declarers in bridge articles sit South.
| | |
| --- | --- |
| Lapt Chan | Larry Cohen |
| | |
The Hand Lapt Played Against Larry
Board 14
Vul: None
Dealer E

W

EST

N

ORTH


A K Q 9 8
A
A J 6
K T 7 4






EAST

J 7 2
Q T 4
T 5 4 3 2
5 2



S

OUTH

4 3
9 5 3
K Q 7
A Q J 9 3
T 6 5
K J 8 7 6 2
9 8
8 6