USBF Adjudicatory Committee Decision Regarding Huub Bertens
In accordance with the USBF Guidelines for Conduction Adjudicatory Proceedings, the USBF Board appointed an Adjudicatory Committee to hear charges against Huub Bertens relating to the USBF Invitational 1 Tournament in May & June of 2020. The conclusion of the Adjudicatory Committee's Report is:
"The USBF Adjudicatory Committee, after full and careful consideration of all the subject USBF Invitational hands and all of the other evidence, arguments, and testimony presented by the Parties and their Attorney-Advocates, unanimously finds, to its comfortable satisfaction, that Mr. Bertens is guilty as charged.
DISCIPLINE
The Adjudicatory Committee of the USBF imposes the following sanctions.
Effective immediately, Mr. Huub Bertens is:
1. Barred from membership in the USBF until January 1, 2028, at which time he may re-apply for membership in the USBF;
2. On probation for a three-year period commencing on the date, if any, that he is re-admitted as a member of the USBF; and
3. Barred for life from serving on the Board of Directors of the USBF."
Click here for the full decision, in PDF format.
Details
JLall2 Round Robin Divisions
Here are the divisions for JLall2 Round Robin (in alphabetic order)
Red Sox

Yankees

Baker

Bishel

Compton

Dawson

Donn

Donner

Greenspan

Levine

Lo

Merblum

Nickell

Rasmussen

Reynolds

Rosenthal

Sanborn

Sprung

Bell

Bitterman

Blanchard

Donnelly

Fleisher

Hill

Joel

Lall

Lebowitz

Lewis

Lin

Liu

Schireson

Simson

Spector

Wu
Details
Congratulations to Transatlantic Senior Trials Winners & Qualifiers
Congratulations to WOLFSON (Jeff Wolfson-Steve Garner, Mike Becker-Howie Weinstein, David Berkowitz-Larry Cohen, Bruce Rogoff-Bob Sartorius) on winning the USBF Trials for the Transatlantic Senior Teams Championship, to be played in January & February next year.
The USBF is entitled to enter 4 teams in the Transatlantic Seniors, so congratulations also to the SIMSON (Doug Simson - Jeff Aker, Allan Falk-John Lusky, Glenn Milgrim-Barry Rigal), LEVINE (Mike Levine-Eddie Wold, Mark Lair-Mike Passell, Jeff Meckstroth-Eric Rodwell, Bob Morris NPC), and LALL (Hemant Lall-Reese Milner, Bob Hamman-Peter Weichsel, Ash Gupta-Naren Gupta-Zia Mahmood-Michael Rosenberg who finished 2nd through 4th, and good luck to all 4 teams in the Transatlantic Senior event.
Details
Congratulations to the Feldman Team
Feldman wins first JLall Online Teams
Congratulatios to Jason Feldman-Jerry Stamatov, Mark Feldman-Adam WIldavsky and Walter Lee-Frank Merblum! They took what looked like a commanding lead in the third quarter, but saw it dwindle to nothing over the first 9 boards of the 4th quarter, then turned it back around to win by 18 IMPs over Levine (Mike Levine-Eddie Wold, Mark Lair-Mike Passell, Jeff Meckstroth-Eric Rodwell).
Celebrating on Zoom: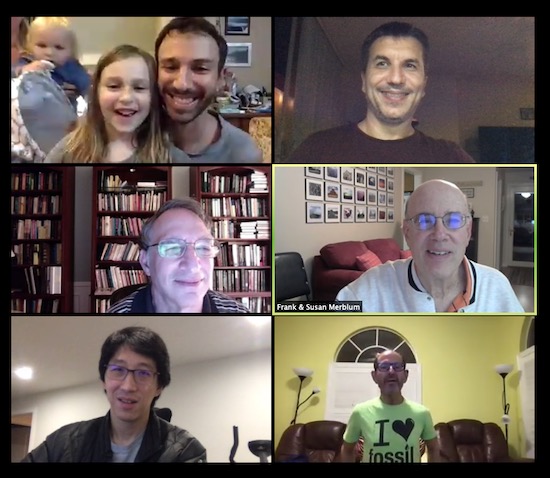 Top - Jason Feldman with Abigail & Everett, Jerry Stamatov
Middle - Mark Feldman, Frank Merblum
Bottom - Walter Lee, Adam Wildavsky
Details