2020 U31 USBC CANCELLED
The USBF has cancelled the Under-31 Selection Trials. The event was to have been held online during April, with a requirement that players not play from their homes, preferably play at a bridge club or similar location, and have an approved monitor watch them. That plan became impossible because of restrictions on public gatherings and closing of most bridge clubs, as well as very serious "stay at home" regulations in several states.

After considering alternatives that would provide adequate security without forcing players to interact with others in this difficult time, and given the uncertainty that the World Youth Bridge Team Championships, at which the U31 event was to be played, and which is scheduled for July 31-August 9 in Italy, will be held, the Board reluctantly decided to cancel the event and not send a team to the U31 event if it is held.

The USBF Board has not yet decided what to do about the Open, Mixed, Senior & Women's Trials, which are scheduled for May in Schaumburg, IL. As soon as a decision is made, we'll let you know.
Details
Junior Teams and NPCs for 2020 WYBTC
The USBF Board has approved the following teams and NPCs for the 2020 WYBTC in Salsomaggiore:
Patiño Cup (Under 26)
USA1:
Hongji Wei - Yichen Yin
Zach Grossack - Kevin Rosenberg
Adam Kaplan - Ben Kristensen
NPC: Brian Platnick
USA2:
Louis-Amaury Beauchet - Nolan Chang
Hakan Berk - David Soukup
Daniel Sonner - Isaac Stephani
NPC: David Caprera
Damiani Cup (Under 21)
USA1:
Finn Kolesnik - Michael Xu
Harrison Luba - Sarah Youngquist
Zhaofeng Phillip Wang - Jonathan Yue
NPC: Adam Grossack
USA2:
Michael Hu - Arthur Zhou
Cornelius Duffie - Stella Wan
Richard Jeng - Brent Xiao
NPC: Joel Wooldridge
Rona Cup (Young Women Under 26)
USA:
Sophia Chang - Lucy Zhang
Cynthia Huang - Morgan Johnstone
Emma Kolesnik - Amber Lin
NPC: Kent Mignocchi
Koç University Cup (Under 16)
USA1:
Marley Cedrone - Zach Posternak
Arthur Gong - Eric Xiao
Michael Haas - Sam Pahk
NPC: Alex Kolesnik
USA2:
Charlie Chen - Kayden Ge
Branden Ge - Olivia Schireson
Ethan Xie - Brian Zhang
NPC: Will Watson
Details
Congratulations Stephani and Xiao Teams
The two USA2 teams for the 2020 WYBTC were decided at the 2019 Michael Seamon United States Bridge Championships today.
In the Under 26 Division, Stephani (Beauchet-Chang, Berk-Soukup) defeated Fan (Wei, Si-Xiong) by 68 IMPs in the USA2 final today. They will join Kaplan (USA1) in the Patiño Cup this summer.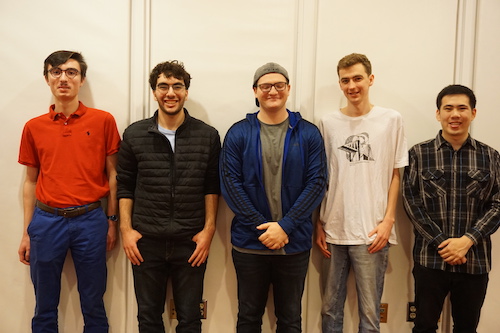 Louis Amaury Beauchet, Hakan Berk, Isaac Stephani, David Soukup, Nolan Chang. Photo by Min Bai.
In the Under 21 Division, Xiao (B. Xiao-Jeng, Hu-Zhou, Duffie-Wan) defeated Vohra (Smith, Lui-Liu, R. Xiao-Yue) by 72 IMPs. They will join Kolesnik (USA1) this summer in the Damiani Cup.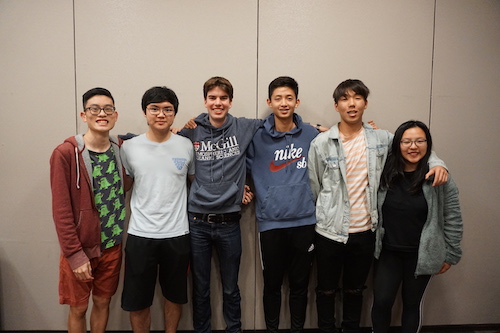 Richard Jeng, Brent Xiao, Cornelius Duffie, Arthur Zhou, Michael Hu, Stella Wan. Photo by Min Bai.
The Stephani team will be required to add a player so that the teams going to Salsomaggiore have 6 players.
Details