USBF MEDALISTS IN WORLD BRIDGE SERIES
Another World Championship for Nickell Team!
Congratulations to the Nickell team on winning the 2022 Rosenblum Teams in Wroclaw, Poland. Nickell (for anyone who doesn't know them: Nick Nickell-Ralph Katz, Eric Greco-Geoff Hampson, and Bobby Levin-Steve Weinstein, NPC Jill Levin) won a hard-fought final over Ventin (Ventin-Wrang-Palma-Pacareu, Mendes de Leon-Sprinkhuizen) 186-164 with a blazing 51-19 final segment, after defeating Team Black (Black-Bertheau, Hallberg-Hult, McIntosh-Paske) 118-115 in the Semifinals.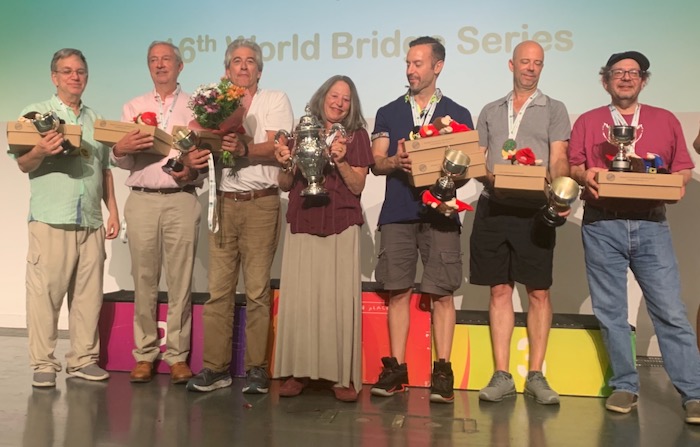 Ralph Katz, Nick Nickell, Bobby Levin, Jill Levin, Eric Greco, Geoff Hampson, Steve Weinstein.
Photo by Stan Subeck.
Congratulations also to the mostly USBF Robinson team (Robinson-Korbel, Berkowitz-Meckstroth, Gold-Zia) who lost to Ventin in the Semifinals to finish tied for third and a bronze medal.
McConnell Medals for USBF players:
In the McConnell Cup (women's teams), with a small but very strong field, Baker (Baker-McCallum, Brock-Brown, Meyers-Sanborn) tied for third, and five other USBF members won medals: Joan Brody & Sandra Rimstedt, Gold; Disa Eythorsdottir & Janice Molson, Silver; Jodi Edmonds & Irina Levitina, Bronze.
USBF Gold & Bronze in the Women's Pairs
Jill Meyers and Kerri Sanborn took home the second USBF Gold Medal from Wroclaw in the Women's Pairs, adding to both players' amazing collection of gold medals - if I counted correctly, this was Jill's eighth and Kerri's eleventh World gold medal.
Disa Eythorsdottir and Janice Molson won Bronze.
Rand Silver Medal & Senior Pairs Bronze:
In the Rand Senior Bowl, the all-USBF Goodman team (Goodman-Lair-Passell, Berkowitz-Meckstroth) lost a close final to the mostly Polish Vytas team, to win Silver, after defeating the Zimmermann team in the Semifinals.
David Berkowitz and Jeff Meckstroth won Bronze in the Senior Pairs.
USBF Medals in Mixed teams & Pairs:
In the Mixed Teams, Barbara Ferm won Gold, Joe Grue and Gillian Miniter won Silver, and Kevin Dwyer and Sandra Rimstedt won Bronze.
Chris Willenken won Bronze in the Mixed Pairs.
Details
CONGRATULATIONS TO JLALL6 WINNERS - FERRO
After an exciting Final match that ended in a tie, requiring a 6-board playoff, FERRO (Ferro-Holtz, Gumperz-Rathi, Ornstein-Rogoff) defeated LALL (Lall-Clayton, Bramley-Woolsey) by 7 IMPs. Congratulations! The Playoff boards are not yet available on the RealBridge kibitz site, but they are available here.
JLall7 will be this fall, after the Summer NABC and the World Championships - as soon as we have dates and format available, we'll post information. Meanwhile, if you've played in a JLall event, you will get a link to a poll about future JLall events - we'd appreciate your feedback.
Details
2023 USBCs format
The USBF Board has decided to hold the face to face stages of the 2022 Junior USBC and the 2023 USBCs using LoveBridge. Given the positive response in 2021 and 2022, the USBF foresees using an electronic environment for a minimum of another year. We will be working with LoveBridge to solve some of the problems players have encountered, and welcome your suggestions for improvements.
Some things we have already done are:
Arranged for the hotel to provide larger, taller tables in all of the playing rooms.
Arranged for LoveBridge to improve the method of entering explanations, including developing a method for players to save frequently used explanations so they can just click once to repeat an explanation.
Started to explore the use of Chromebooks instead of tablets. If that is not possible, we will have external keyboards and mice for all players.
Started work on a revision of the Time sections of the General Conditions of Contest to clarify the use of electronic timing. We may ask LoveBridge to change some of the details of time-keeping, probably allowing some time to be "neutral," not assigned to either pair.
Details
CONGRATULATIONS TO SPECTOR USA1 FOR THE 2023 BERMUDA BOWL
After a hard-fought Final match in the 2022 Open USBC, SPECTOR (Warren Spector-Gavin Wolpert, Kevin Bathurst-John Hurd, Vince Demuy-John Kranyak) had a blazing finish to defeat NICKELL (Nick Nickell-Ralph Katz, Eric Greco-Geoff Hampson, Bobby Levin-Steve Weinstein) 224-192. SPECTOR will be USA1 for the 2023 Bermuda Bowl and Nickell will have another chance in the 2023 Open USBC, which will select USA2.
Spector Team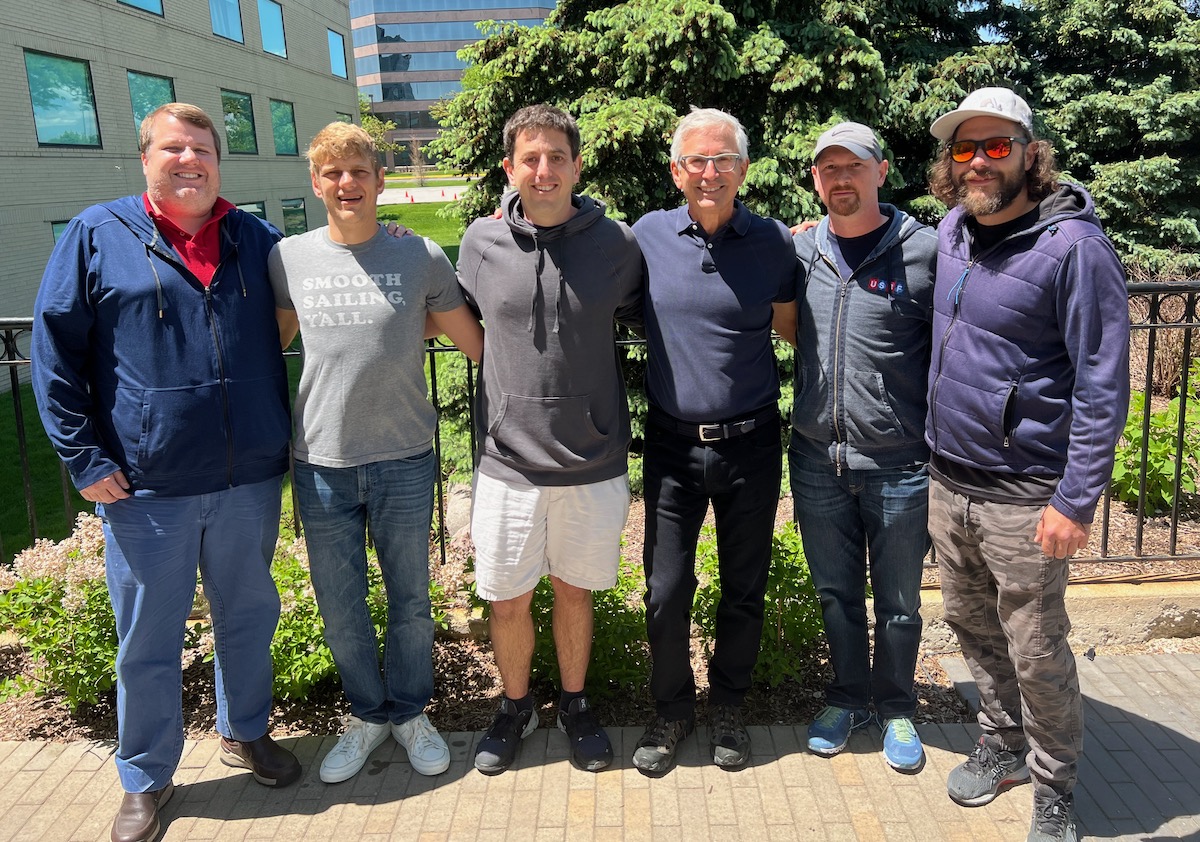 John Hurd, John Kranyak, Gavin Wolpert, Warren Spector, Kevin Bathurst, Vince Demuy. Photo by Stan Subeck
GOOD LUCK in Marrakesh!!
Details