2013 - GOLD & SILVER FOR USA IN BALI
Congratulations to the USA2 Venice Cup team, who won the Gold in the Venice Cup, to USA2 in the Seniors on a very close second place finish for Silver and to the all-US Gordon team, who won Gold in the Transnational Teams. Well done all!
Venice Cup Winners: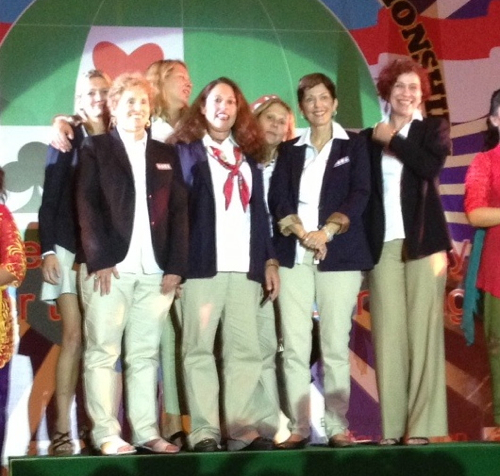 Jenny Wolpert, Sue Picus, Disa Eythorsdottir, Jill Levin, Janice Seamon-Molson, Jill Meyers, Migry Zur-Campanile
D'Orsi Senior Bowl Silver Medalists: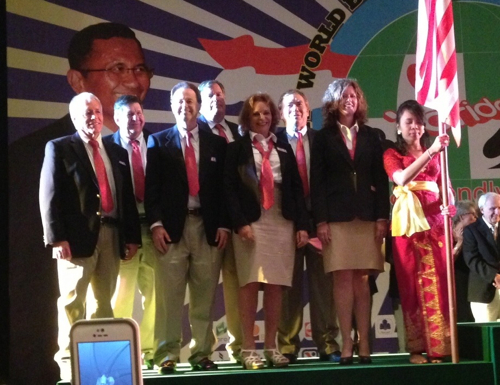 Garey Hayden, Marc Jacobus, Eddie Wold, Mike Passell, Carolyin Lynch, Roger Bates, Donna Compton
Transnational Team Winners:
2013 - BOUND FOR BALI
Six teams will represent the United States in the 2013 World Championships in Bali, Indonesia. The teams are:
Bermuda Bowl
USA 1:

Kevin Bathurst - Kevin Dwyer
John Kranyak - Gavin Wolpert
Bobby Levin - Steve Weinstein
NPC: Shane Blanchard
USA2
Marty Fleisher - Michael Kamil
Zia Mahmood - Chip Martel
Michael Rosenberg - Chris Willenken
NPC: Jan Martel
Venice Cup
USA1
Lynn Deas - Beth Palmer
Irina Levitina - Kerri Sanborn
Judi Radin - Barbara Sonsini
NPC: Rozanne Pollack
USA2
Disa Eythorsdottir - Janice Seamon-Molson
Jill Levin - Jenny Wolpert
Jill Meyers - Migry Zur-Campanile
Senior Bowl
USA1
Neil Chambers - John Schermer
Allan Graves - Richard Schwartz
Bob Hamman - Sam Lev
NPC: Paul Street
USA2
Roger Bates - Garey Hayden
Marc Jacobus - Eddie Wold
Carolyn Lynch - Mike Passell
NPC: Donna Compton
We all wish all of our teams the very best of luck in Bali!
I will try to post reports each day from Bali, but please don't hold me to it!! Click here to get to those reports as soon as I write the first one

on our "departure day."
2013 SPORTACCORD TEAMS
The 2013 SportAccord World Mind Games tournament will be held in Beijing from Dec. 12-18. Good luck to the USBF teams for the event! The Open Team (pairs listed in alphabetic order) will be Steve Beatty & Mark Cohen, Tom Carmichael & David Grainger and Doug Doub & Adam Wildavsky. The Women's Team will be Cheri Bjerkan & Rozanne Pollack, Mildred Breed & Disa Eythorsdottir and Christal Henner & Migry Zur Campanile.
Women's Team
Open Team
For more information about the event and how the teams were selected, you can find the answers to questions we have been asked in the past by clicking here.