USA Juniors Star in 2022 World Youth Transnational Team Championship
A large contingent of US juniors participated in the 7th World Youth Transnational Championships, which was held Aug 7-14 in Salsomaggiore, Italy, taking home many medals and awards. We congratulate all of them:
U26 teams, "USA U26" Bo Han Zhu (CAN*), Zach Grossack, Finn Kolesnik, Harrison Anders Luba, Kevin Rosenberg, Michael Xu (USA) won gold.
Here they are on the Victory Stand in Italy, from the Tournament Bulletin: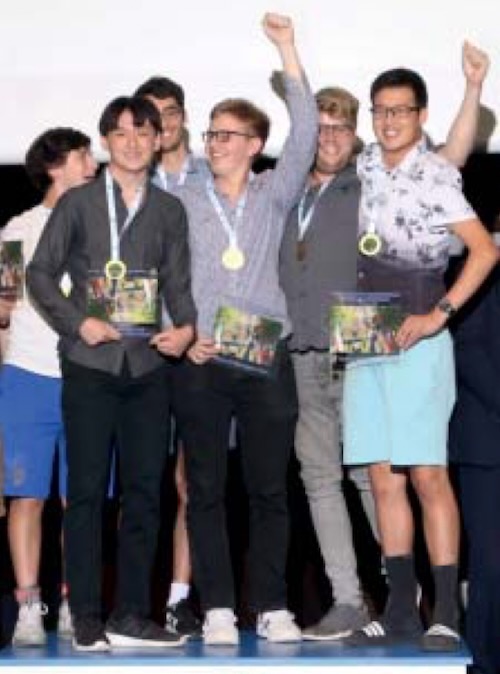 Harrison Luba, Michael Xu, Kevin Rosenberg, Finn Kolesnik, Zach Grossack, Bo Han "Bruce" Zhu
In U26 pairs, Sibrand van Oosten (NED) - Jacob Freeman (CAN*) won gold.
In U21 pairs, Finn Kolesnik and Michael Xu won gold.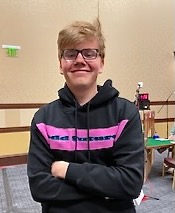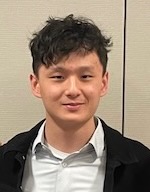 Finn Kolesnik Michael Xu
In the U31/U26/U21 individual, Finn Kolesnik was 2nd overall and Kevin Rosenberg was 4th overall and 1st in U26.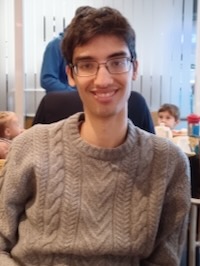 In the U16 teams, "USS Unsinkable" Andrew Chen, Charlie Chen, Kayden Ge, Eric & Jeff Xiao, Brian Zhang (USA) won silver.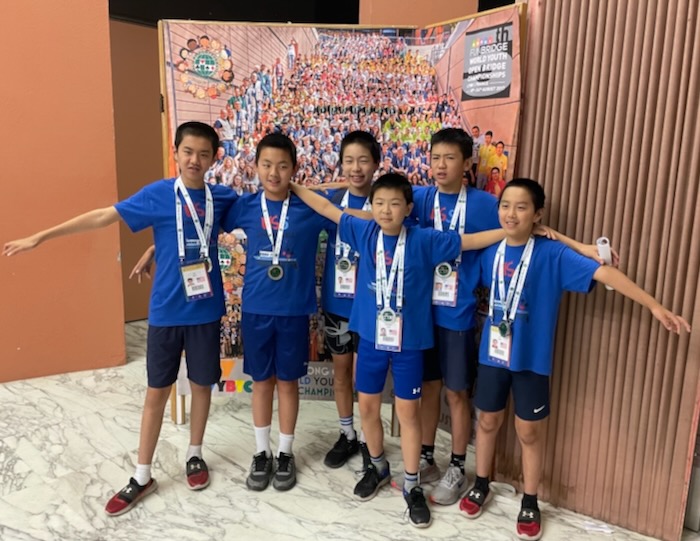 In the USA U16 individual Brian Zhang won gold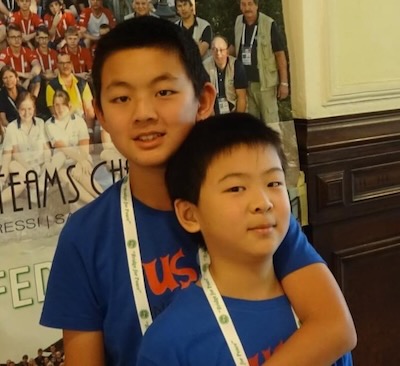 Brian Zhang with teammate Andrew Chen
Finn Kolesnik was the only triple medalist at the championship.
Finally, Olivia Schireson won a Joan Gerard Youth Award, the first US winner since Adam Kaplan in 2013. The Joan Gerard Youth Award rewards "aptitude, fair play, good sportsmanship and a friendly international spirit, rejecting any discrimination."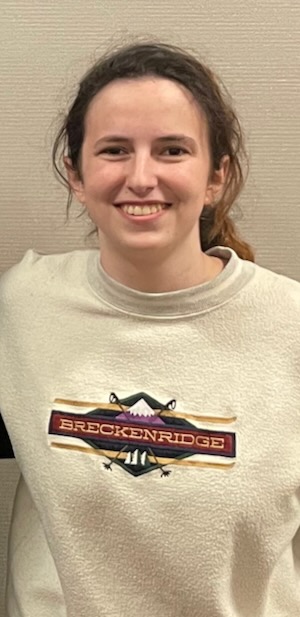 *Bo Han (Bruce) and Jacob represented Canada in Salsomaggiore, but played in the 2023 Michael Seamon Junior USBC and earned spots on US teams for the 2023 World Junior teams championship, so we honor them along with the players who were playing for the US in Salsomaggiore.
Details
CONGRATULATIONS TO JUNIOR TEAMS
At the Michael Seamon Junior USBC, which ended on December 31, the USBF selected teams for the 2023 World Youth Bridge Team Championship: 2 teams for the Under 26 event, 2 teams for the Under 21 event, and one team for the Rona (young women under 26) event. The tournament would also have selected one team for the U16 event, but only one team entered in that division, so the Junior Committee has recommended to the USBF Board that they be approved. Several of the teams have fewer than 6 players and will augment to 6 and also choose non-playing captains before the USBF Board approves all of them.
U26 Teams
USA1: (in photo order): Ben Kristensen, Zach Grossack, Finn Kolesnik, Emma Kolesnik, Jacob Freeman, Kevin Rosenberg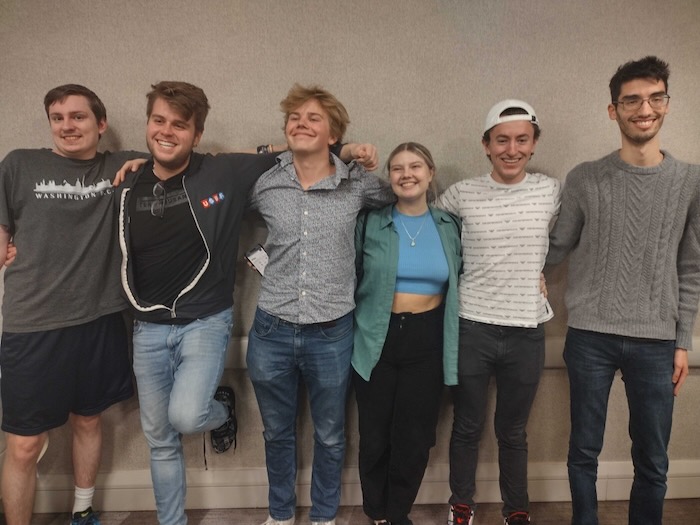 USA2 (in photo order): Stella Wan, Cynthia Huang, Brent Xiao, Richard Jeng, Cornelius Duffie, Amber Lin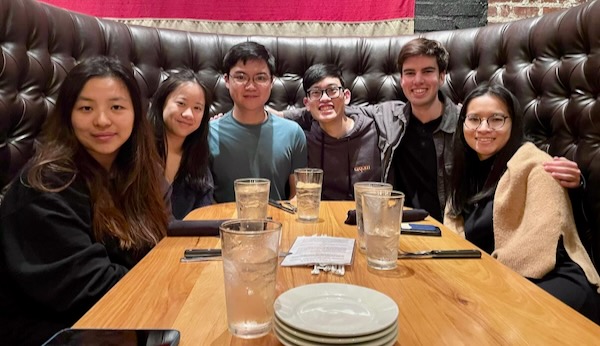 U21 Teams
USA1 (In photo order): BoHan (Bruce) Zhu, Harrison Luba, Michael Xu, Olivia Schireson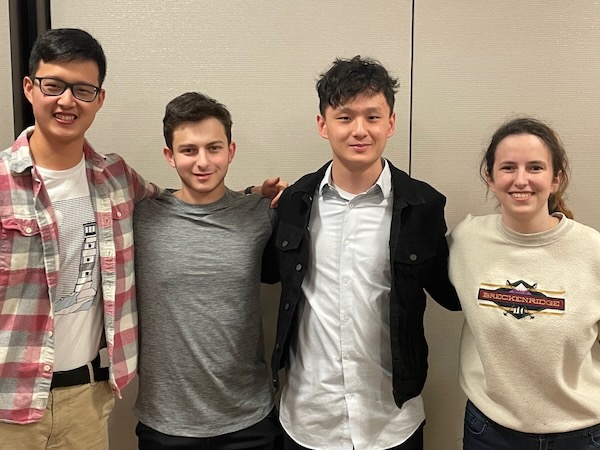 USA2 (in photo order): Jonathan Yue, Rory Xiao, Arthur Zhou, Michael Hu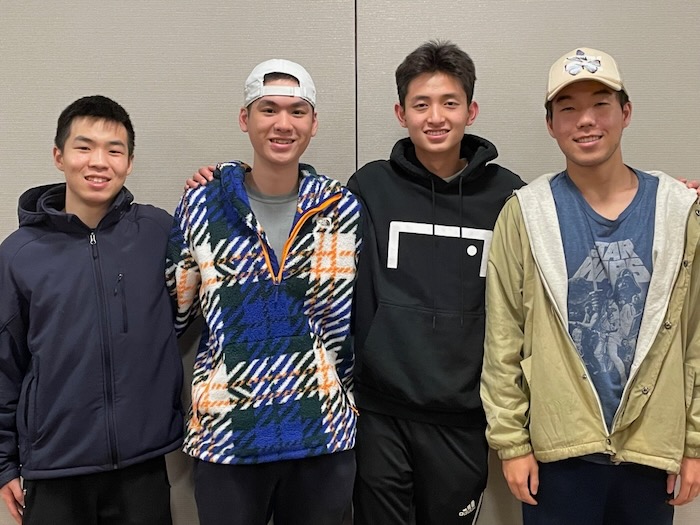 Rona (women Under 26) team
USA (in photo order): Margot Donnellan, Ava Donnellan, Helena Hsieh, Jessie Cai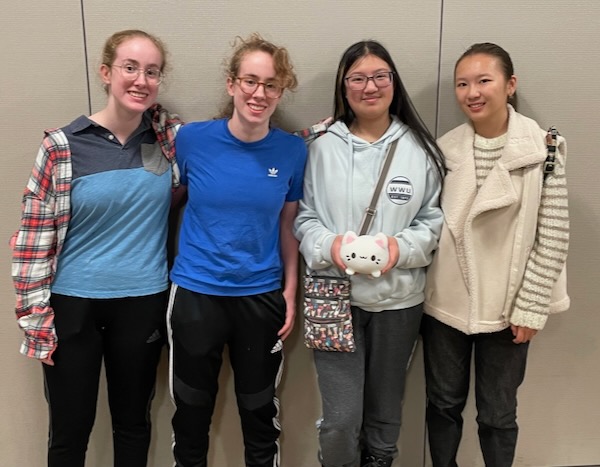 U16 TEam
USA (in photo order): Brian Zhang, Andrew Chen, Jeff Xiao, Eric Xiao, and Charlie Chen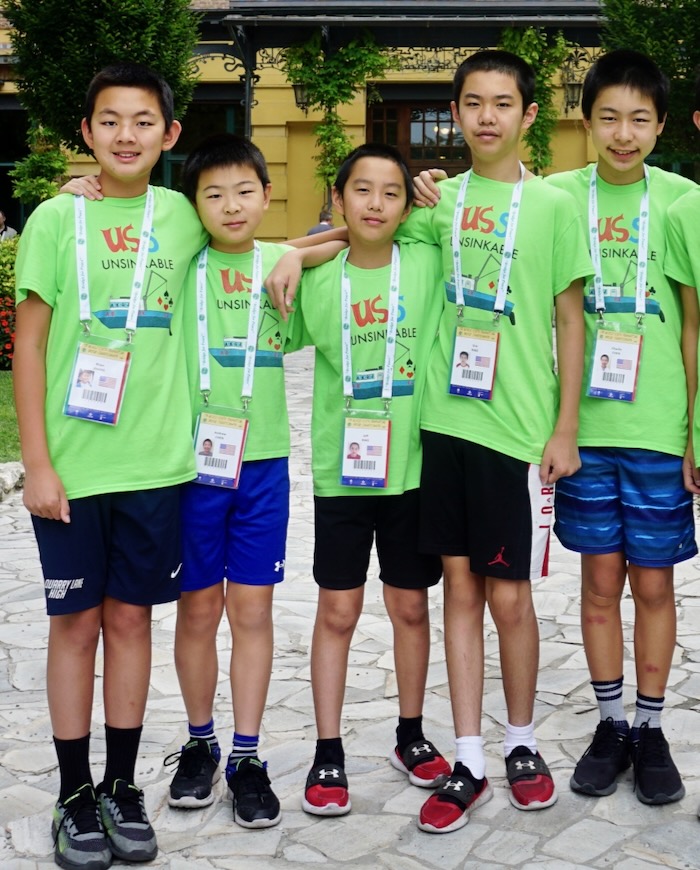 CONGRATULATIONS TO ALL OF YOU AND GOOD LUCK IN THE 2023 WORLD JUNIOR CHAMPIONSHIPS
Details
2023 Transatlantic Senior Cup
The 2023 Transatlantic Senior Cup has been announced for January 23rd - February 9, 2023. Play will be on weekdays only. Players must be born in 1960 or earlier. The USBF is entitled to enter 4 teams. If more than 4 teams are interested in playing, we will hold a Qualification event on RealBridge to select our 4 teams. Because we don't yet know whether the event will be needed, we have not chosen dates for it. If you want to play in the Transatlantic Senior Cup please enter the Transatlantic Senior Qualification event (you must be logged in to access that page) and if more than 4 teams enter, we will consult with the entered teams schedule it. Teams that have entered are listed here.
Details
MINOR CHANGE TO 2023 MIXED AND SENIOR USBC SCHEDULES
Last year, when we qualified eight teams for the face to face stages of the USBCs, we were unhappy that we needed to have the USA2 Quarterfinal and Semifinal matches be only 1 day long each. Not surprisingly, many of the players were also unhappy with that - we all prefer longer matches. Thinking about next year's Mixed and Senior USBCs and discussing with several very helpful players, we finally came up with a format that adds only one day to each event and extends the USA2 Quarterfinal and Semifinal to 1-1/2 days (90 boards) each. Here's what it looks like:
Days 1 & 2 are the USA1 Quarterfinal KO. The winners advance to the USA1 Semifinal, the losers drop into USA2.
Days 3 & 4 are the USA1 Semifinal and USA2 Stage 1. Both are 4 team KO's.
Day 5 and half of day 6 is the start of the USA1 Final, and all of the USA2 Quarterfinal, which has 4 teams.
The second half of day 6 is the end of the USA1 Final, and the start of the USA2 Semifinal (2 teams).
Day 7 is a rest day for the losing USA1 Finalist, unless both USA1 Finalists choose instead to spread the 8 segments of the Final over 3 days; and the end of the USA2 Semifinal.
Days 8 & 9 are the USA2 Final.
Changing the Mixed and Senior USBCs to this format means that the Mixed will end one day later than was previously scheduled, and the Seniors will start one day later and end 2 days later than previously scheduled. The dates and format of the Open and Women's are unchanged. Here's the revised calendar for all 4 events: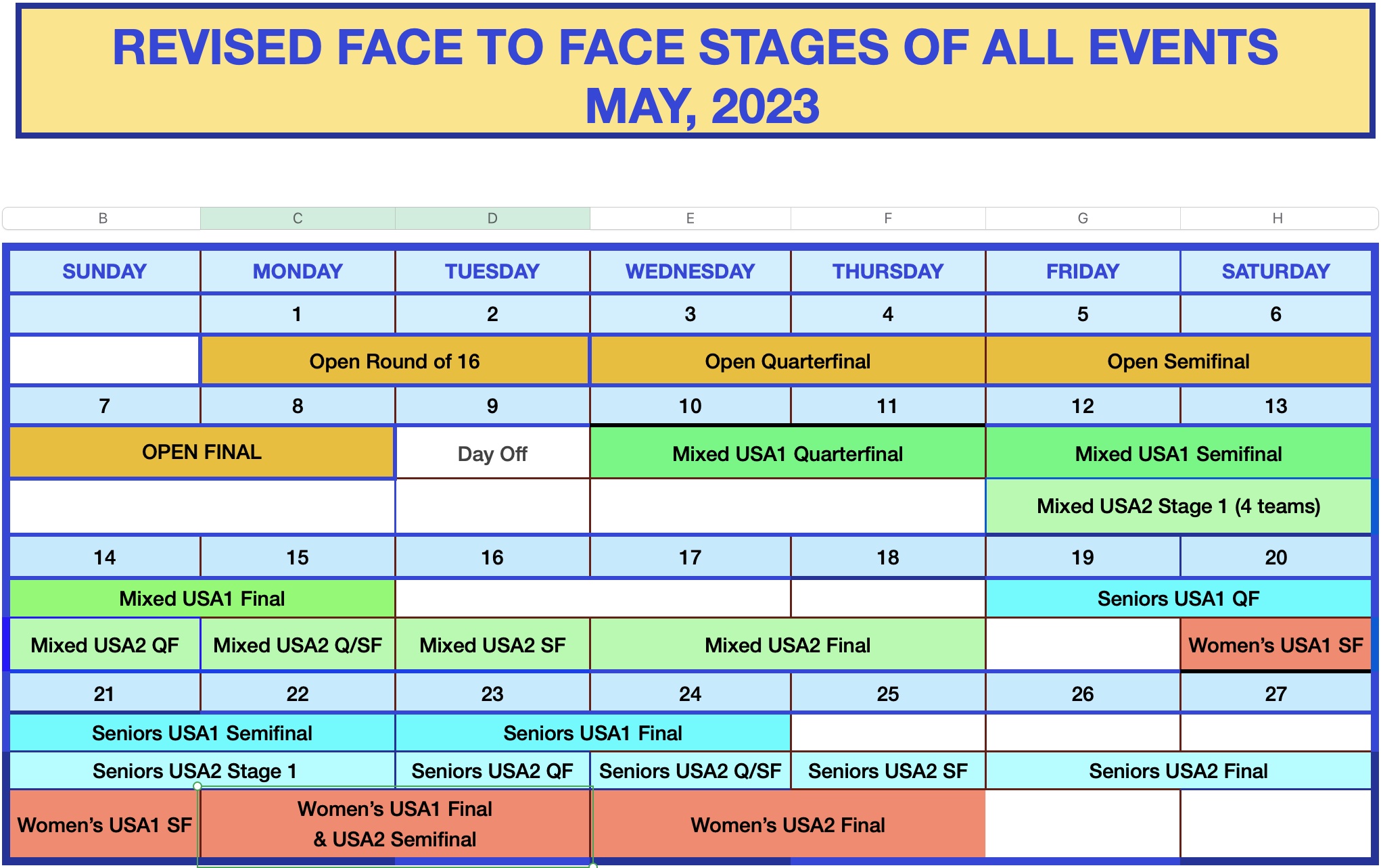 Details